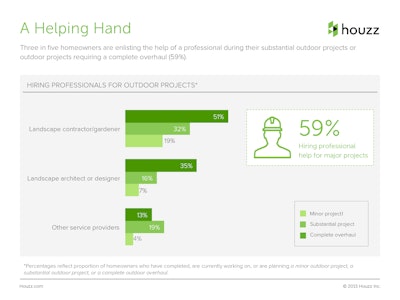 Landscaping professionals are likely to be encouraged by the 2015 Houzz Landscaping and Garden Trends Study, which shows most homeowners seek professional landscaping or gardening help for substantial outdoor projects. Based in Palo Alto, California, Houzz says more than 30 million homeowners, design enthusiasts and home improvement professionals worldwide are now part of its online community. The site is loaded with photographs of houses, gardens and landscapes, along with ideas for improving them.

Most of the homeowners involved in outdoor projects were focused on backyard spaces, with 58 percent of respondents describing the work as a "substantial renovation" and another 29 percent calling it a "complete overhaul" of the space.
Nearly all (96 percent) of the survey respondents say their outdoor projects involve one or more landscaping elements. "A third are updating their natural lawn," the Houzz report says, "and one in 15 is adding or upgrading a synthetic lawn."
Among the most common elements addressed by the projects were planting beds and borders (70 percent), pathways (52 percent), improvements to the natural lawn (32 percent), a fence or other property border (29 percent), with just over 20 percent pointing to the addition of a fire or water feature of some kind, or the installation of steps in the outdoor space.
Landscaping equipment such as a sprinkler system or other irrigation hardware is frequently part of homeowners' upgrades, although lighting systems – whether LED or solar – were the most common upgrade involved. Interestingly, Houzz reports that 17 percent of the homeowners responding to its 2015 trend survey indicated they were installing (or intended to install) rain-harvesting equipment of some kind.
Of the homeowners undertaking a landscaping or garden-related project, 56 percent planned to hire a professional to handle the job, Houzz reports, with just over half of them budgeting about $10,000 for the work. Actual spending routinely surpasses budgeted amounts for outdoor improvements, the survey confirmed.
Information in the trend study is based on responses to a May 2015 online survey. Houzz says 1,600 homeowners completed the survey. All respondents had completed an outdoor project at their homes in the past 12 months, were currently at work on an outdoor project or planned to start one in the next six months.