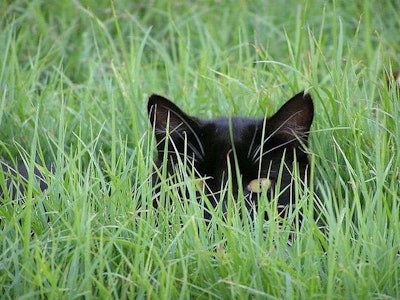 Landscaping for pets isn't a novel idea, but the thought of cats actually caring what is planted in a backyard probably is.
Felines are renowned for their devil-may-care attitudes, but their owners may still be interested in providing a safe and fun place for their cats – and you can show them how.
It's important to realize upfront that a project involving a client's pets is going to be unique. When "catscaping," you're catering to the needs of your client's specific cat or cats. For instance, if the cat is old and overweight, you probably don't need to worry about designing an activity area for it. Instead, focus on creating sunbathing areas and shady escapes.
Sun escapes
Believe it or not, cats with white fur are prone to sunburn, even those with just white ears or noses. These cats are susceptible to sunburn in the hotter months, and as with humans, too much sun can trigger skin cancer. Because sunblock isn't an option, creating shade is the way to go.
Trees and plants can provide the shelter your customer's cat needs, but you can also design something with people in mind rather than pets, such as a patio with a canopy.
Feline-friendly plants
Although the reason cats love catnip remains a mystery, there's no denying the kitties love it. It should be an obvious addition to the backyard. Cat thyme, lavender and valerian are other plants that have a scent cats enjoy.
Choosing pollinator-attracting plants is a bonus, as cats enjoy chasing butterflies and other insects around the yard. Avoid placing plants in prominent areas like protruding corners or entrances; cats like to mark their territory in these locations. Stick to hardy shrubs that can withstand curious claws and jaws.
Lethal landscaping
Just as there are harmful plants for dogs, there are some plants that are only dangerous to cats. Lilies are able to kill a cat if it happens to get pollen on its fur and then ingests it. Azaleas, daffodils and Sago Palms are all highly toxic to cats if eaten. For a full list of plants that are unsafe for cats, click here and here.
Kitty kingdom
For younger cats, entertainment is crucial and keeping it in one area will save your client's garden from getting shredded. In this play area, allow the grass to grow a bit longer, or install a different type of grass altogether to create separation.
Create scratching posts by adding logs that are secured in concrete so they don't topple on the cat, then cover the concrete with a layer of bark.
Protective fencing
While you can't guarantee your client the fence you install will keep their pet in, you can make sure it keeps others out. Take special care to ensure the fence is secure and has no gaps the neighboring dogs can enter.
Placing netting or a mesh near the top of a fence may succeed in keeping the felines inside the backyard, but this may be too much of an eyesore for some customers.
Safety and deterrents
If your client already has a pond, the cat may run the risk of toppling in. Suggest spreading a wire mesh over the pond if possible. If you are installing the pond, just include a low edge that will allow the cat to scramble out.
To keep cats away from areas of the lawn that are off limits, whether it be delicate plants or a bird's nest, use citrus fruit peel or the herb rue. Cats also avoid areas that bother their paws, so prickly plants or stone chippings can drive the creatures away from your client's protected areas.