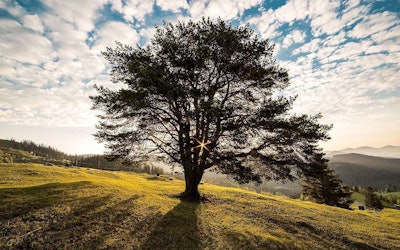 Trees have been given credit for bettering the environment and society in many different ways, and now there is a way to put an estimated price on these benefits.
Davey Tree Expert, Casey Trees, the Arbor Day Foundation, the U.S. Forestry Service, the Society of Municipal Arborists, and the International Society of Arboriculture all joined in a cooperative initiative known as i-Tree.
As part of that initiative, Davey Tree Expert and Casey Trees created a national Tree Benefit Calculator. This allows individuals to evaluate the trees on their property and become aware of all the ways they're helping.
Users simply enter their zip code or the location of the tree they are estimating, the species and the diameter to receive an estimation of economic value of the tree along with a breakdown of its different environmental benefits.
For example, a black oak with a 30-inch diameter oak tree at a single family home will provide around $270 benefits a year. It can intercept 11,264 gallons of stormwater runoff a year with its root system and conserve 247 kilowatt-hours of electricity for cooling. It will also be able to absorb 1,113 pounds of carbon dioxide from the atmosphere.
Trees not only help the environment but are known to increase a home's curb appeal, reduce crime, and lower stress.
The i-Tree initiative has also resulted in desktop and web-based applications designed to help in the assessment of tree value. The web-based i-Tree Landscape tool can be used to show how tree canopy impacts people, where trees are needed most, and why the current tree canopy should be preserved.
To check out the full suite of applications offered by i-Tree, click here.