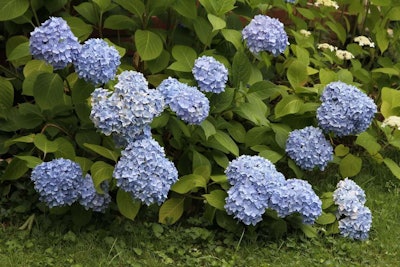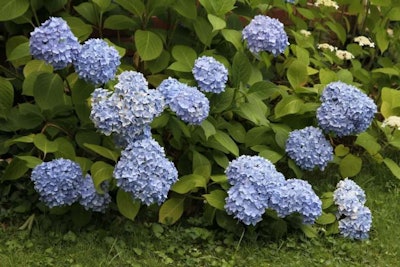 Now that the summer months are getting closer, it's time to take a look at a plant that serves multiple purposes: hydrangeas.
Hydrangeas come in so many shapes, heights and colors, which makes them the ideal designing plant for most gardens. Hydrangeas are long-living plants that bloom most of the summer and well into fall. Check out a few ideas you can talk to your clients about when it comes to different ways of using hydrangeas in their landscape.
Climbing hydrangeas
Blooms on climbing hydrangeas have massive vines that are able to easily climb columns, trees, pergolas, brick walls and other kinds of supporting structures. These typically grow anywhere from 30 to 80 feet tall and can tolerate being pruned to shorter heights. They can also be grown as shrubs. Their vines grow well in full sun or partial shade, and they adhere to surfaces by rootlets that can cling to almost any surface. They may take about three to five years to fully grow up and bloom, but in the end the beauty that appears is worth the wait.
Miranda climbing hydrangeas (Hydrangea anomala petiolaris 'Miranda')
These vines are vigorous and have dark green variegated foliage with yellow to creamy white margins. Fragrant, white blooms appear in late spring and early summer, and mature plants can begin to show exfoliated reddish brown bark.
USDA Hardiness Zones: 4-8
Full sun or partial shade
________________________________________________________
Focal point in container gardens
For those customers who may not yet be ready to dive into a full landscaping life, suggest container gardens. And what better way to really make those containers pop than by adding an array of colorful hydrangeas to the mix? These containers can be placed along walls, on patios, rooftops and more. They will require a little more of your attention when it comes to care, but just assure your clients that you are more than willing to lend that kind of dedicated hand. Be sure to check moisture levels daily, as their large blooms require more water.
Edgy Hearts (Hydrangea macrophylla 'Horheart' USPP 22,368)
An interesting bicolor hydrangea, Edgy Hearts bloom in the summer with almost heart-shaped petals of bright pink edged in white. The plant can be used in mixed borders or cutting gardens. Its blooms are found on old wood, so it is important to prune after flowering. They can grow 2 to 4 feet tall and wide.
USDA Hardiness Zones: 5-9
Partial sun to sun
________________________________________________________
Adding pizzazz to a formal garden
Your customer's initial thought might be to leave out plants that don't seem to fit into the "formal" setting, but be sure to tell them not to skimp on the hydrangeas. Their large blooms can help amplify the effect of the other flowers around them, and with the varieties available your customers are sure to find a few options that will keep in line with a formal style while still adding pizzazz.
Annabelle (Hydrangea arborescens)
These hydrangeas can measure up to 10 inches across and work well with the geometrical lines that usually accompany formal beds. Their color palettes bring silver, white and greens to the table and offer a subdued and controlled look to the landscape.
USDA Hardiness Zones: 3 to 9
Part shade or sun
________________________________________________________
Dressing up your slopes
Admit it, you know you've been dying to suggest something to your customers about how to spice up that slope in their yard. Well, look no further than the trusty hydrangea. Slopes can prove challenging because they are prone to erosion and they are not always the easiest terrain to maintain, but hydrangeas are an excellent solution to this. Unless your customers want to keep these plants small, they will not require much pruning. They will continue to grow and thrive as long as they are in an area where they can get enough rainwater or are near an irrigation system.
Blue Enchantress (Hydrangea macrophylla 'Monmar' PP #25,209)
A hydrangea that really excels in producing a blue worth talking about is Monrovia's Blue Enchantress. Contrasting well with deep ruby stems, these mopheads of flowers can turn an electric shade of blue if the soil's pH is acidic enough. Enchantress is also a repeat bloomer and is ideal for borders and mass plantings. They can grow 3 to 5 feet tall and wide
USDA Hardiness Zones: 5-9
Partial shade to partial sun
________________________________________________________
Transition plants
Getting to the point in the landscape where your customers want a clear transition from yard to woodland, hydrangeas can serve as the perfect dividing line. Shade-loving hydrangeas can thrive in the woodland setting, but they should be planted farther away from trees so they are not forced to compete for water. Mix in some native plants or spring-flowering bulbs to make the transition less jarring and appear natural.
Snowflake oakleaf hydrangea (Hydrangea quercifolia 'Brido')
These white flowers eventually age to pink and bear oak tree-like leaves that can turn purple and crimson in the fall. Their blooms will continue to open all throughout the summer and will have large flower heads with intricate double blossoms.
USDA Hardiness Zones: 5-9
Partial shade to full sun