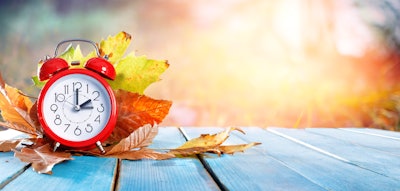 Daylight Saving Time is nothing new to those in the landscaping field, but did you know that it can sometimes negatively affect your crews?
Before it hits this Sunday, take a look at a bit of the history behind Daylight Saving Time and what you can do to help prepare your crews for the time change and keep them aware of the effects.
Did you know?
While it's still heavily debated who actually invented the concept of Daylight Saving Time, the practice was instituted year-round for the United States during World War II.
From Feb. 9, 1942, to Sept. 30, 1945, President Franklin Roosevelt enacted Daylight Saving Time, calling it "War Time." However, from 1945 to 1966, there was no federal law regarding the practice, and states were free to choose whether or not they wanted to participate.
It wasn't until 1966 when the Uniform Time Act took effect under President Lyndon Johnson that Daylight Saving Time was recognized nationwide and set to begin on the last Sunday in April and run until the last Sunday of October.
In 2005, President George W. Bush signed a broad energy bill into law that extended Daylight Saving Time by four weeks starting in 2007. This caused it to start on the second Sunday of March and end on the first Sunday of November.
How it affects you
When it's time to "spring forward," this causes us to lose an hour. This, in turn, shifts work time and other scheduled events one hour earlier, and it takes away an extra hour of sleep. This time of the year, we get to "fall back" and get that hour back, which results in another change in sleeping/waking schedules.
It typically takes about a week for a person's body to adjust to such a time change because of the changes taking place in sleeping, waking, working and eating, and until they've adjusted, your crew members could be suffering from mild cases of sleep deprivation and a reduction in performance, which can ultimately lead to worksite injuries.
The Centers for Disease Control and Prevention (CDC) says that these problems are thought to be linked to the disruption of sleep and circadian rhythms, which are the daily cycles of many hormones and other body functions that prepare us for the times we expect to sleep, eat and perform activities. When these time changes occur, it can be difficult for circadian rhythms to get back on track.
The CDC says that while everyone is affected in some way by the time changes, not everyone is affected equally.
For those used to getting seven or fewer hours of sleep a day, there tends to be a bigger problem of adjusting when the times change. Also, the CDC says a person's natural tendency to get up and go to bed early or get up and go to bed late can play a part in one's ability to cope.
"Those prone to naturally follow an 'early to bed and early to rise' pattern will tend to have more difficulties adjusting to the fall time change because this goes against their natural tenancies," the CDC said online. "Conversely, those who naturally follow a 'late to bed and late to rise' routine will tend to have more trouble with the spring time change."
The CDC also states that for younger workers prone to the night owl life, the time change may be more difficult to adjust to during the spring, whereas older early bird types may have more difficulty adjusting to the change during the fall.
How can you help?
To help keep your crews safe before, during and after Daylight Saving Time, take a look at a few recommendations from the CDC that can keep your employees aware of what they might be experiencing.
Take time to talk with employees about the physical effects they might experience, such as grogginess and impaired ability to operate vehicles, machines and more. Since it takes about a week to recover from the effects of Daylight Saving Time, the CDC recommends taking on a lighter work week with fewer physically and mentally challenging jobs. This could be a time to catch up on paperwork and other office duties if your landscaping company is in the position to do so.
The CDC also recommends talking to employees about remaining vigilant while driving, as others on the road may not have adjusted as well to the time change and may be slightly impaired themselves.
For men and those with existing heart conditions, the CDC says the risk of heart attacks increases after the time change due to the bodily disruption in can cause. So, talk to employees and advise them to keep close tabs on their own physical health, as well as that of their crew members.