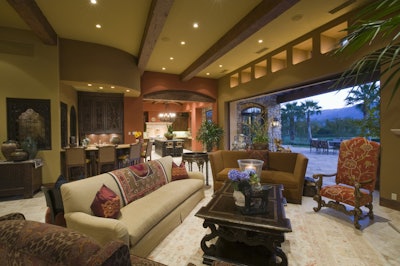 As in every area of life, trends will come and trends will go, and the green industry is no different.
One ongoing trend that's become popular as of late, especially in warmer climates, is the installation of open-air transition rooms called a California rooms. Simply put, California rooms are outdoor spaces, similar to porches but a little swankier, that are home to indoor amenities.
Regardless of whether your customers have an outdoor area they want to transform into a California room or you've had customers inquire about creating a whole new space in their landscape, California rooms could be a trendy way to reimagine the space and make it into something unique.
Take a look at what exactly a California room is, what elements they showcase and whether or not you think it's an idea your current clientele could get on board with.
What's the deal?
Contrary to the name, these outdoor-indoor spaces aren't just reserved for those living in California, as their popularity has spread far and wide across the country.
"The California room, like many home additions, is a space where homebuyers can unwind and entertain," Danver Stainless Outdoor Kitchens says online. "Its name was chosen to allude to the growing home feature of California homeowners to utilize the outdoors all year round. Inspired by the California sunshine, the great outdoors, and beautiful rooms with a view, these transition rooms are the perfect space for relaxing, entertaining and enjoying the outdoors any season of the year."
Similar to screened-in porches or other outdoor spaces, California rooms act as an extension of your customer's home and will blend the outdoor relaxation element of a porch with the comfort and functionality of an indoor room.
Unlike a screened-in porch or typical outdoor space, a California room will, as first glance, appear to be a large living room until you notice one wall is missing and there is an open entryway directly into the backyard.
"California rooms happened organically because of the nature of the geography in that region, which doesn't have frost or bugs or basements that require steps to the outside," Mary Cook, principal of Mary Cook Associates, a commercial interior design firm in Chicago, told New Home Source.
California rooms usually include a roof to ensure the space is protected against sun exposure and other elements, while the other sides of the space will be open to the outside.
In many cases, much like a screened-in porch, California rooms will remain on the same level as kitchens or living rooms, as this gives customers the ease of transitioning from one space to the other without breaking up the flow of the evening.
Unlike traditional screened-in porches, California rooms can serve as multipurpose spaces, not just for lounging and relaxing. Many California rooms will play host to outdoor kitchens, dining areas, and large seating areas that could easily fit a whole slew of family and friends.
"Outdoor spaces let homebuyers take advantage of our mild climate, provide spectacular views and also create intimate spaces where residents can gather for special occasions, socialize or just enjoy a nightcap after a long day at work," Melissa Hazlett, vice president of sales and marketing for Baldwin & Sons, a Southern California homebuilder, told New Home Source. "We've had very positive feedback from our buyers and have sold many homes based on the fact they include the option for California rooms. We estimate that about 60 to 70 percent of our buyers have added them, even when they're not a standard feature."
The more amenities added to the space, the more home-like it becomes, and many customers might enjoy adding in heated floors, multiple lighting fixtures or ceiling fans to ensure they can use their California rooms throughout the entire year. For areas with a prevalence of insects, it might also be a good idea to install a screen to keep customers comfortable while they use their room.
"What's important is to make the outdoor space seem interchangeable with the indoor space, so you're likely to see less traditional wicker furniture and more pieces that look like your family room furniture," Charlie Coleman, Austin, Texas, division president for Lennar, told New Home Source.
With the overabundance of busyness in the everyday lives of your customers, it's a good idea to be able to offer them a little escape from the hustle and bustle with a space they can easily relax in. Take time to talk with your customers about their hopes for the space to ensure you are able to make their dreams a reality.
"California rooms fit the way people live today," Cook told New Home Source. "The busier they are, the more people want to be outside."