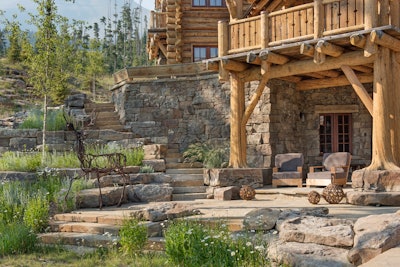 Blanchford Landscape Group
If your clients have a deck attached to their home (or are thinking about adding one), you can be helpful by suggesting ideas on how to use the space underneath. Some homeowners might not even realize they can do anything with that space. We spoke to Mason Shaffer, Garden Designer with Blanchford Landscape Group in Bozeman, Montana about some of his best ideas for using this area.
Add functional storage
One valuable way to make the space underneath a deck more useful is to transform it into a storage area. Shaffer says that they achieved this on one property where they enclosed the deck to create the "she shed" that a female homeowner desired. This became a spot to store garden tools.
"Keep in mind that under-deck storage is going to be limited to items that can get wet unless you install a roof system," Shaffer says.
Here are some questions to ask homeowners to help narrow down what will work:
What items would you want to store under the deck?
What condition do these items need to be in to maintain their integrity? Do they have to stay dry?
Do you live in a neighborhood that has any requirements in regard to the changes you make to your deck (such as HOA bylaws)?
Incorporate plantings and landscaping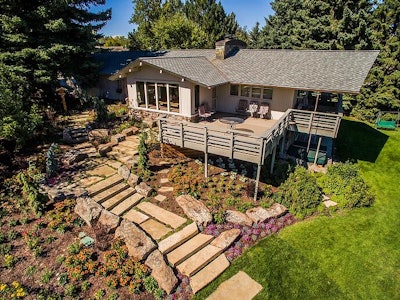 Instead of adding storage, perhaps your clients are interested in using this space for the beautification of their property. You could add plants beneath the deck to extend the landscaping. Keep in mind that any plants underneath the deck will need to be able to perform well in shade, Shaffer says.
"We have used groundcover under deck areas to fill in the space while also making it aesthetically appealing," Shaffer says. "There are also shade-loving ornamental grasses that could work well."
Remember that you (or your clients) will need to care for those plants so they need to be accessible. Boulders and rocks could also work and won't require any care.
"On one property we built a small boulder retaining wall to border the under-deck area and then we did groundcover beneath the deck," Shaffer says. "This also became a spot where the homeowners could toss shoveled snow so that they could clear their hardscaping without creating big piles."
Go big: Adding a patio
Of course, the ultimate way to really maximize the usability of under-deck space would be to add a patio. If your client has an upper-level deck that is high enough to provide headroom beneath it, your client might want to turn that into a functional space. If it does not provide enough headroom, you could excavate.
One of the primary benefits, says Shaffer, is that you could add a roof and create a covered space with a ceiling. This means your clients can enjoy the space rain or shine. There are ceiling materials available for rainproofing and piping that can send the water that flows on top of the deck to downspouts. The water should then be directed away from the finished space.
This can be a costly endeavor for your clients but one that will give them a lot more functional space in their yards. Shaffer says that clients who have townhomes or small yards might be most interested as they already have minimal space.