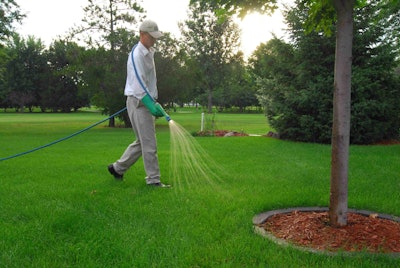 Sometimes it's hard to keep up, even if you're paying attention. The world of pest management is constantly evolving. The result: an integrated marketplace that caters to the demands of end-users with new products based on years of research combined with new technologies. Sounds good, huh? But what exactly does that mean, and how do you incorporate it into your business?
You don't want to know the details surrounding the basis for every scientific formulation involved in the development of the products you use. But you would like to know how to maximize their efficacy by choosing the ones that best suit your purposes.
While it would be hard to analyze your exact needs in order to make specific product recommendations within the confines of this article, it is possible is to profile your treatment options based on method of delivery, chemical properties and how they relate to efficacy.
So what follows is a very basic breakdown of your options when it comes to the way you apply chemicals. Know that for many categories listed below, there are subcategories not profiled by this column. If you have additional questions, contact your supplier and follow the product label, as it is always your best guide.
Chemistry 101
As with all grounds management products, you have a long list of chemical control products available to you. The one you choose will ultimately be based on the pest you're combating, the plant it is attacking, the level of infestation and other environmental factors.
Good cultural practices alone aren't always enough to maintain insects and weeds at an acceptable level, but you'll benefit from them in a number of ways, including a measurable decrease in the number of pests you're likely to see. When you implement a chemical control method, you need to know that they come in various formulations.
Quite simply, a formulation is a mix of active and inert ingredients that combines to control your target pest. The active ingredient (or ingredients, as some products feature more than one) in the product is the actual chemical that kills the pest, and the inert ingredients are used to dilute the insecticide and serve as a carrier. They include water and oil for spray formulations and clay for granular ones. The product often also contains other chemicals designed to enhance efficacy, including adjuvants and wetting agents.
You often can choose from several different formulations with the same active ingredient. This means that the products will target the same pest, but you'll decide on which application method best suits your needs.
You'll need to take into consideration the equipment you have available to you to apply the product and the area and environment you're working in: Is it windy? Will you have to worry about drift? Is there a risk of surface staining? What is the difference in price? Once you settle on those variables, you'll be able to choose a suitable product with confidence.
Formulations
The most popular formulations of chemical pest control come in the way of sprays, granules and baits. These are not the only formulations available to you, and there are numerous subcategories.
Baits: Commonly used to control insect and vertebrate pests, these formulations include an active ingredient that is typically mixed with food to attract pests, enticing them to ingest the bait. Doing so results in their death. You'll want to consider using bait if you have mobile pests including mole crickets, slugs, cutworms and snails. The best feature of baits is that you can successfully treat and eliminate pests without the labor and cost involved in treating the entire landscape. But before you commit, assess your environment. The primary drawback to bait is that they also can be attractive to non-target mammals and even children.
Granular formulations: There are many reasons you might opt for a granular formulation instead of a spray if you're looking to combat weeds or soil insects. They are easier to apply and require no mixing on your part. They present very little drift hazard and can contain less active ingredient (chemical) than their sprayable counterparts. Granules show less potential for phytotoxicity and generally don't have much threat of staining buildings and sidewalks. Some granular formulations also boast longer staying power, thanks to slow-release technology.On the flip side, granules are sometimes harder to place than sprays because of their level of contact, making targets harder to pinpoint. And they often require irrigation after application – or before application if you are targeting foliage and hoping granules will stick. Even then, foliar absorption will remain relatively low. Plus, granular formulations are often more expensive to compensate for the fact that they contain more inert ingredients and weigh a lot, translating into heavy-duty packaging and more expensive shipping costs.
Sprays/liquid formulations: While spray application requires a little more skill, sprayable or liquid formulations can achieve pest control quickly and accurately. They provide good coverage and result in effective pest control by sticking to targeted foliage. Manufacturers have developed spray formulations for nearly all genres of pests, so they are versatile and especially well-suited for treating trees and ornamentals because of their adhesive qualities. If applied correctly, sprays provide a more uniform and targeted reach than granules. They are usually less expensive and easier to store.The potential drawbacks to using sprays include a sometimes higher application rate, as well as an increased chance of staining nearby sidewalks and buildings. Mixing and cleanup requirements are more involved for sprays than for granules, and there is also an increased potential for phytotoxicity when using sprays. Also know that when you opt for spraying on chemicals, you'll be more dependent upon environmental factors including weather conditions (wind=drift), which could affect application schedules.