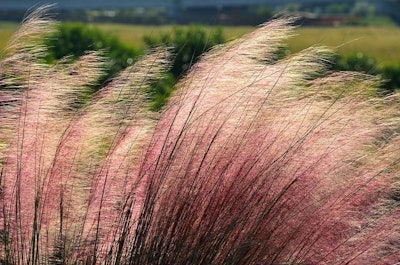 Few plants can compare to ornamental grasses in terms of adding graceful movement to the landscape. They are strong and diverse, yet require little maintenance once established.
These landscaping staples add interest all year, and even appeal to the auditory senses, providing a soothing rustle on windy days. It's little wonder they began gaining popularity several years ago and continue to prove themselves, earning high marks with landscapers and clients alike.
Use grasses as mass plantings in ornamental beds, as screens around plantings, along borders, or even in containers. They multiply your design options through their adaptability, and they are excellent companions for evergreens as well as flowering and woody ornamentals.
Each species boasts its own special characteristics, ranging from those that clump near the ground to those that tower, those that bloom in spring to those that bloom in fall. With these bold plants, you'll get outstanding texture and a variety of colors, too, from blue to red, green to yellow to variegated foliage with stripes.
As summer fades to fall, their colors wane to muted hues of brown and burgundy that complement other fall foliage.
Digging in
Before planting, prepare the site by incorporating organic matter. Most grasses are tough, but perform better in well-drained sandy loam than in clay. Then plan positioning. It's critical that these grasses have room to grow. Let full-grown height be your guide. Space plants as far apart as they will be tall. Water weekly until the grass becomes established.
Once established, many grasses can tolerate some dry periods. Follow up with a slow-release fertilizer in spring.
Taking care
Maintenance is minimal, which is part of the beauty of planting ornamental grasses.
Other than occasional fertilizer and irrigation requirements, the bulk of maintenance will be cutting back these grasses in late winter. Use string trimmers to cut the plant down to 3 to 4 inches (large clumps of taller grasses are typically cut closer to 1 to 2 feet).
For tougher grasses, try replacing your string head with a metal, toothed, circular blade designated for cutting brush. Annual trimming gets more light to the crowns of the plant, encouraging freshly emerging shoots and discouraging snails and other lurking pests. Just be sure to do it early in the season or you'll cut off new growth with the old.