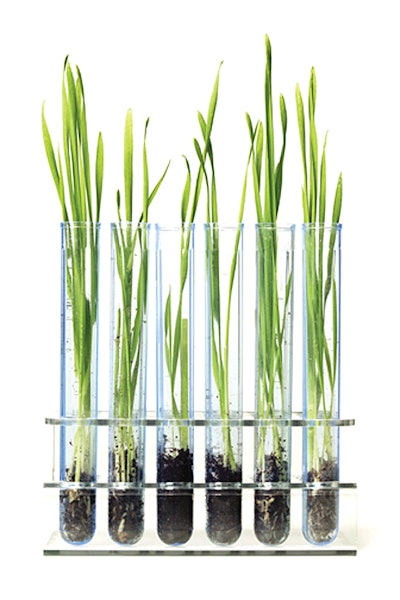 If your turf didn't pass the test, follow this prescription for fall.
As one of the hottest, driest summers on record for most states, the summer of 2012 has just given your turf the ultimate test.
"Heat and drought like this are really good for showing weaknesses within the lawn: compaction, bad species, bad cultivars, poor drainage. This is the perfect stress test," says Zac Reicher, professor of turfgrass science at the University of Nebraska. "If your lawn didn't pass the test, why not? Now's the time to fix what's ailing turf."
Reicher says there are three main strategies that can help insure turf is as strong as it can be by next spring, but advises lawn care professionals to first discover any underlying turf problems. If plants didn't make it, you first have to ask why, then create a plan so that turf can be healthier in the spring, but you can't wait until then or it will be too late.
The warm-up
Some say that warmer winter temperatures could have indicated a warmer-than-usual summer, but no one predicted just how hot and dry it would play out. Winter transitioned easily into an early spring and long summer, which meant lawn care operators should have extended fertilizer application and weed control efforts.
"We are teachers. We need to be there with a smile on our face and say, 'I can fix that for you,' and have contacts at a nursery with good prices and plant knowledge."
"Fertilization is based on growing days, so the longer the season, the more fertilizer plants will need to maintain the same quality," says Reicher.
For crabgrass, it has been an exceptional year, and Reicher says that two applications of a pre-emergence herbicide for treatment of crabgrass is becoming the norm, especially in a season such as this—and even that may not carry you through a long season. Yellow nutsedge had another banner year. As turf starts to thin from heat, nutsedge start coming in with a lot of other sidewalk weeds and they are just hard to control.
"Those plants grow based on degree days and soil temperatures. They don't look at the calendar and say they're done in two months.
"It just makes sense to use two sequential applications as the most effective way to control crabgrass, especially if you look at the summers we've been having. Only one out of nine summers is an easy summer."
The only good news about the summer of 2012: very little turf disease. "It was just so dry that we didn't have enough moisture to breed disease," says Larry Ryan, owner of Ryan Lawn and Tree in Kansas City. What he did see more of, however, is disease on ornamentals. From verticillium on redbuds to rust on pear trees, what turf lacked in the disease category, ornamentals more than made up for.
Plant PR
If nothing else, 2012 has been a year to discover what plants work best in your region, says Ryan, who calls the brutal summer "nature's stimulus package," and a good time to visit with clients and explain why plants are failing and offer alternatives to help insure a stronger fight against future heat waves and drought.
"A lot of plants that have little to no drought tolerance are dying out, and homeowners don't really understand why. They know they've been watering, so we have to explain that there is extreme drought pressure," says Ryan.
"The weather was so obviously bad this year that I think clients are cutting turf managers some slack," says Reicher. "The last few years have been brutal, but 2010-11 were much more subtly bad where hot nights and lots of humidity beat up turf, but those conditions were not that obvious to the non-professional."
Unusually hot and dry weather will spotlight anything that is already wrong with turf and ornamentals that under typical circumstances would remain unnoticed. "There has just been no tolerance for it this summer," says Ryan. "We're sorting out plants that aren't highly adapted to this climate. Siberian Elm leaves are still fresh, but sweet gums are dead. White pines are dead.
"What we need to be doing right now is this: if a lawn needs reseeding, we need to be there with a smile on our face and say, 'I can fix that for you,' and have contacts at a nursery with good prices and show knowledge about right plant, right place. We are teachers. I don't think we spend enough time encouraging clients to do the right thing," says Ryan.
Focus on fall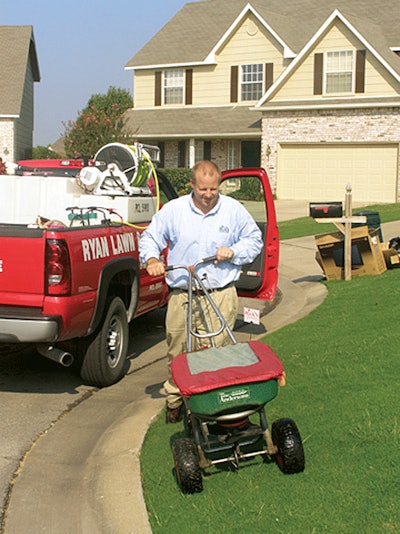 Most years, two applications of a fertilizer in fall would be enough to ensure a healthy turf stand in the spring; however, Reicher is recommending three applications for those regions that endured an especially hot and dry summer.
"In years like this, I recommend a third application halfway between mid-September and that of the last mowing. Add maybe 25-50 percent more nitrogen," he says. Instead of applying, say, a pound each for two applications, divide it into three applications of ¾ pound each.
"Those three applications go a long way to improve what's left of the lawn. Don't ever miss that final application near the last mowing, especially in years like this."
Knowing that turf was stressed over the summer, it's important to be on weed watch during the fall, so a fall application of a broadleaf herbicide well into October, even near the last mowing, will provide good control.
"On thin turf, there is a good chance for winter annuals, so the later that application, the better chance of collecting those weeds," says Reicher.
"Don't think that you can ride things out until spring and hope to