Anthracnose is a fungal disease that affects trees and plants all over North America, and P&A Urban Forestry Consulting Ltd. offers advice on dealing with anthracnose on the firm's blog.
Based in Richmond Hill, Ontario, the family-owned consulting firm notes that anthracnose thrives in moist conditions, "particularly during the rainy months of spring or humid weather in the summer."
The fungus is resilient. Anthracnose can survive on plant debris throughout the winter, according to P&A, resurfacing on plants in the spring.
Anthracnose typically affects ash, maple, and oak varieties of trees, the consultants say, although other deciduous and evergreen species can get infected. The disease can spread through contact with plant debris, wind, rain, insects, and even gardening tools.
Typically, P&A Urban Forestry Consulting says, anthracnose is not fatal to trees, but it can kill a number of plants, including some crops.
What does anthracnose look like?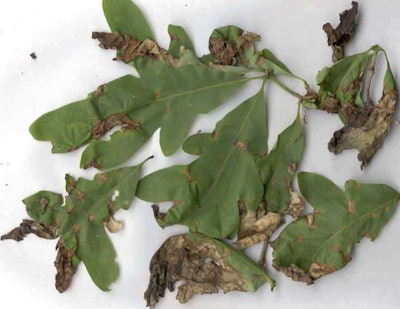 Trees infected with anthracnose generally bud later than expected. P&A says an infected tree isn't likely to have leaves until late June or early July, and those leaves will fall earlier than usual in the autumn.
When anthracnose is present, a leaf will have dry brown and black lesions, which begin to form on the edges but slowly spread to the whole leaf.
The disease can also kill the tips of twigs and result, in some cases, in defoliation of the tree.
Anthracnose treatment and control
The consultants at P&A – experts in tree assessments, maintenance, and preservation as well as storm damage, insects, and diseases of trees – say one of the best ways to control anthracnose and prevent its spread is to rake up and remove leaves each year. This prevents the return of the disease the following spring.
The arborists at P&A recommend getting rid of any plants infected with the fungus. Again, unlike many plants, affected trees won't die, but they need to be pruned carefully.
Prune any dead leaves and twigs affected by anthracnose and then take care to remove all that debris from beneath the tree.
To learn more about P&A Urban Forestry Consulting and its work, click here.