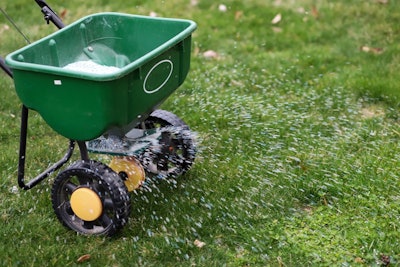 Lawn care operators should always read the labels on the products they've chosen, and never exceed the recommended amounts. However, some professionals find they can use less product and still get effective results.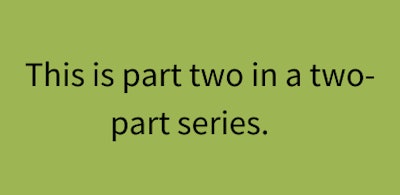 Chris Denise, applications manager for Franz Witte Landscape in Boise, Idaho, notes that if you're applying an impregnated product with a pesticide mixed in, the label represents the maximum allowable rates by law.
For products without other chemicals mixed in, his company will typically aim for about one pound of nitrogen per thousand square feet.
"When you're designing a fertilization program, your primary driving factor is to understand what type of turf grass you're managing and then to find the corresponding information for what the recommended nutrients load is over the course of the growing season," adds Toby Mancini, Franz Witte's operations manager. "We target one pound of nitrogen per growing season on that turf, and it gets broken up over multiple applications."
Amount may also be adjusted depending on the specific area and soil type, notes Justin Brown, lawn care program coordinator for Waynes in Birmingham, Alabama.
For example, when servicing a neighborhood with older homes and more organic matter in that soil, those properties may not need as much fertilizer as a new development where all the topsoil has been stripped off during pre-construction.
"There, you might be starting from scratch and have to apply more fertilizer to get the same result and do this for several years until that soil's nutrient levels are built back up," says Brown.
Just add water…or not
Product labels will advise about irrigation requirements. For example, granulated fertilizers need moisture after application to water the product in, while other fertilizers require you to soak the lawn before applying.
"One of the benefits of liquid applications is you don't necessarily have to get irrigation down within the first 48 hours in order for the product to be effective," says Nate Moses, CEO of Precision Landscape Management in Greenville, South Carolina. "The plant begins taking in the product within just a few hours."
Brown notes that every treatment his team applies should be watered in within a matter of days, whether it's a liquid or granular application.
"The faster it gets watered in, the faster it's going to start to work," says Brown, adding that treatments are often fine-tuned for customers who don't have automatic irrigation and can only water once a week.
"We have to make sure those products are not going to degrade and that customers get their money's worth, so we use products that can sit there for seven days without breaking down. Obviously, customers will get more benefit if they can get them watered in within two days."
Keeping it clean
Lawn care pros who prefer using granular fertilizer should always sweep up stray granules after an application. Otherwise, the product gets washed into storm drains, adding pollution to rivers streams and lakes.
"Applying the fertilizer is really only half the job; the other half is cleaning up your mess afterward," says Denise.
It's important to ensure the application hits the target as much as possible because some fertilizer components, such as iron, can stain hard surfaces once water hits.
"All of our guys have a little handheld blower on their trucks and we blow granules off driveways and sidewalks back onto the lawn," adds Brown.
Mistakes to avoid
In addition to checking the weather forecast prior to fertilizing to be sure a downpour or wind storm won't immediately wash or blow your product away, there are plenty of other traps inexperienced lawn care providers can fall into.
"I think it's important to be rotating the active ingredients in your products because over time, plants can get used to a specific type of chemicals, and they can actually build up some resistance to a lot of application products," says Moses.
Bad timing can also reduce the effectiveness of your year-round program, adds Denise.
"If you time your applications too early, you could throw off each consecutive application," he explains.
Calibration is another crucial element of a successful lawncare program, says Brown.
"We're always doing what we call 'bucket checks' – checking the output on our liquid applications to make sure that based on how fast the technician walks and how far he sprays from side to side at the width of his path that he's applying the correct amount," he says.
On granular applications, operators should make sure the spreader is functioning properly, he adds. If the hole gets clogged or the spinner stops working, the fertilizer can pour out of the hopper, leaving a small trail of funny-looking designs.
Moses notes that many landscape contractors focus only on the operational side of their business, and don't charge enough.
"They don't put enough value on their program," he explains. "As labor and material costs go up, we really need to make sure we're charging for our expertise and telling customers we want to continue providing great results, but it's going to cost more."
Be proactive and strategic
Moses suggests lawn care contractors take time each year to examine their annual costs per round of fertilization and have a concrete plan ahead of time.
"Obviously, there are some seasonal changes we can't anticipate, so you have to be adaptable with your program, but don't go into each year doing the same old thing without assessing the success of last year's program, seeing which costs have changed and what you may need to adapt or change" he says.
Mancini says in his area, there's an opportunity for periodic aeration that actually enhances the benefit of fertilization.
"That may be an added practice and definitely a sales opportunity if it's not already built into a lawn care operator or maintenance company's standard program to offer," he explains. "If it's not part of our standard program, it allows us to upsell that."
Brown's crew leaves detailed notes for customers after each visit.
"W
e tell them what we did, and what we need the customer to do as far as watering and mowing," he says. "We try to make sure they've got all the information they need as well as the field professional's name and phone number so they can call him with any questions."