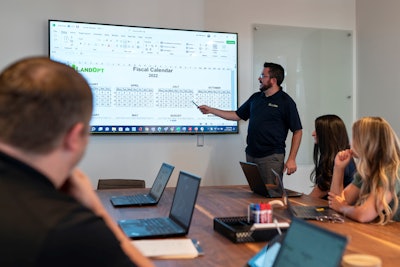 LandOpt
Landscape contractors are accustomed to enduring unpredictable weather, but this year's sudden onslaught of inflation, which came on like an unexpected storm, presented a whole new set of challenges. Unfortunately, it has yet to pass, creating lasting effects. To make matters worse, the threat of a recession looms larger.
While contractors cannot control inflation any more than the weather, smart ones manage it, rather than letting it manage them. With the busiest part of 2022 having passed and 2023 approaching, this is the time to start looking ahead to next year. Dealing with continuing Inflation -- and the potential for a recession -- need to be high on your planning priority list.
Along with budgeting for next year, this also is the time to take a close look at 2022 and make financial adjustments to improve your bottom line.
The rearview mirror
Looking back on this year, the most obvious and troublesome cost increase was fuel, but fertilizer, supplies, and labor also impacted contractors. At this time last year, LandOpt, which helps contractors grow by improving their financial performance, advised members to budget $3.00 to $4.00 per gallon for fuel in 2022. For much of the year, unleaded gas was running a dollar higher than expected, with some fuel suppliers even adding surcharges.
Fertilizer prices went up 30% over 2021, which also saw big increases. The culprit: rising natural gas costs. Supply issues caused seed prices to increase by 40% or more.
With labor in short supply, many contractors had to increase their pay rates and incentives to attract and retain crews. The LandOpt system saw an average 6% to 7% hike in wages.
Looking ahead
Peer into the contactors' crystal ball and you'll see a cloudy forecast. And if recent years foretell the future, 2023 will bring surprises that no one can foresee. Good financial planning considers both predictable factors, as well as unknowns.
While gas prices have recently decreased, they likely will remain volatile and unpredictable. Fertilizer costs are expected to again rise because of the demand for natural gas. LandOpt anticipates they will go up between 20 and 30%. Equally troubling: labor costs are expected to jump 4 to 8%.
Planning = profits
In 2021, our contractors' operating profits exceeded their peers by 28%. While we work closely with them all year, an annual, three-day financial planning workshop held every fall is the key starting point. At this in-person event, we use a proprietary planning tool that guides members through a detailed process to create a financial map for the following year. This includes forecasting revenue based on market factors, which for 2023 includes a recession. Costs for each profit center are projected, taking into account price increases, as well as labor and material shortages.
Members leave the meeting with a plan that projects overall revenue, costs, and profits for the year. Our financial planning tool also helps them monitor their performance and adjust their projections based on changing conditions.
For example, this year, many LandOpt contractors used the projection tool to see how rising fuel costs would affect their performance. They were able to see the difference between making no changes to their prices versus adding a small surcharge. Based on the results, several contractors decided to add a 1% to 3% fuel surcharge to their maintenance contracts. The increases for each customer were small, but they added approximately 1% to each contractor's bottom line.
Most of this year's cost fluctuations were due to unpredictable fuel prices, which we expect will remain high. Anticipating this makes planning easier. At the same time, more interest rate hikes, the potential for a recession, increasingly violent weather and geo-political factors that impact the supply chain all remain potential threats.
Flexibility fights inflation
In addition to good planning, there are several steps you can take during inflationary periods to improve profitability.
Evaluate pricing frequently, taking into account rising labor and other costs, and adjust it when contracts allow.
Build price escalators into new contracts.
While demand is high, be selective in taking on new customers to ensure they are profitable.
Compare each job's actual performance to the original estimate and adjust either the price or scope of work if it is not generating enough profit.
Eliminate unprofitable work.
Reward employees for cost-cutting measures.
Rent equipment instead of buying it, especially when interest rates are high.
Shorten the expiration date on bids.
Negotiate now with your suppliers to get the best possible price and terms on equipment and products you will need next year.
Having been in the landscape contracting industry for 18 years, LandOpt and its members have been through more than a few economic challenges. Like bad weather, inflation eventually will pass. With the right planning, patience, and perseverance, you will emerge from the storm even stronger.
Chris Gussey is a LandOpt Success Coach. He works with members on an ongoing basis as a counselor and financial advisor. He has a bachelor's degree in IT Management and an MBA. Before joining LandOpt in 2018, Gussey worked for a Dallas management consulting firm. Visit www.landopt.com for more information.