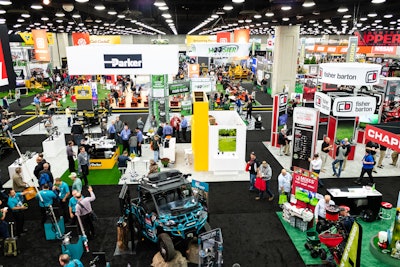 GIE + EXPO
GIE+EXPO has announced that plans are underway for the annual tradeshow to return in person October 20 through 22, 2021 in Louisville, Kentucky. Online registration—which is $20 through September 9—is currently available at www.gie-expo.com.
Industry pros are excited to get back to the show this year, which was recently named the sixth largest trade show in the nation. GIE + EXPO is sponsored by the Outdoor Power Equipment Institute, Inc. (OPEI), the National Association of Landscape Professionals (NALP), and the Professional Grounds Management Society (PGMS).
"We've been going to GIE for the last 18 years and find the networking to be one of the most important aspects of it—so we are excited to be back in person," says Doug Delano, managing partner of Level Green Landscaping, headquartered in Upper Marlboro, Maryland. "It's also important for us to touch base with vendors and try out some of their new equipment. We have great relationships with our main suppliers and appreciate the opportunity to connect with them at the show."
As they have in the past, the NALP will also be hosting their Landscapes event in conjunction with GIE + EXPO. According to the NALP, that registration will open in mid-June. Landscapes has three days of education sessions targeted at helping lawn and landscaping businesses to grow.
"We are more than thrilled to be hosting live events again and look forward to seeing everyone at Landscapes and GIE + EXPO," says Britt Wood, NALP CEO.
Bob Grover, president of Pacific Landscape Management in Portland, Oregon, says he's pleased to see these events returning in person.
"My team and I are excited to attending NALP's Landscapes event in Louisville and will spend some time at GIE + EXPO," he says. "We are excited to get back together with our friends in the industry after missing out last year."
As in previous years, Hardscape North America (an ICPI) event will be co-located with opportunities to see hardscaping demonstrations, participate in education, and more.
Lots of opportunities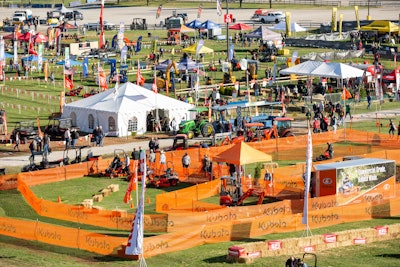 As of April 20, GIE + EXPO has announced that 675 companies had already signed on to exhibit—an 18 percent increase over the same time in 2019. More than 70 of these are new exhibitors.
The show will have expanded education opportunities on real-world topics such as drones, robotics, and connectivity—as well as opportunities to get behind the controls with hands-on experiences.
Here are just some of the planned events.
Hands-on Drone Zone where attendees can fly drones with expert trainers
Technology Summit presented by the NALP
UTV Test Track
Remote Pilot Certification Course presented by the Indiana State University Aviation and Unmanned Systems Program
Expanded In-Tree Arborist Demos and Classroom Courses including CEU opportunities
Opening keynote, "Leadership and a New World Order: The Need for Resilience," featuring Retired U.S. Navy 4-star Admiral James Stavridis
Free dealer workshops by Bob Clements International, including a discussion on Bulletproofing Your Business
Ready to be back
These and other opportunities have many landscape professionals excited to get back in person to GIE + EXPO. After all, for most landscape professionals, business never slowed down. In fact, many landscape companies have reported being busier than ever.
Delano says that Level Green has worked through the pandemic and business continues to grow. As a result, he's looking forward to exploring what's new and finding innovative ways to head into the future.
"We're very interested in robotics and electric equipment right now," Delano says. "GIE is the place to see what's new."