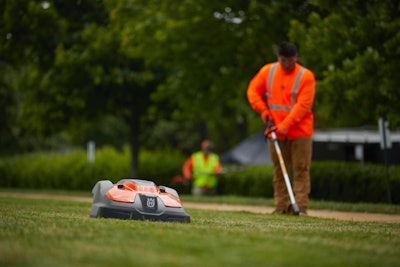 Husqvarna
The Equip Exposition is well underway, and there's a lot of exciting news coming out of Louisville, Kentucky this week.
Here are just some of the new products and equipment that we've seen so far. We will have more coverage of new products in the coming days.
Kubota showcases its wide range of products
Kubota also has a variety of equipment on display at the show.
Kubota's F3710 front-mount mower replaces the F3990 in the company's F Series of commercial front-mount mowers. Available with both side-discharge and rear-discharge pro commercial mower decks in 60 inches and 72 inches, the F3710's high lifting capacity provides the versatility to handle an array of implements like a grass catcher, snow blower, rotary sweeper, and debris blower.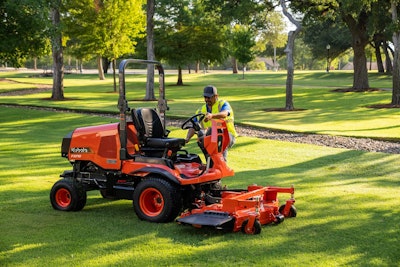 In addition, Kubota's ZD1611 replaces the ZD1511 in the company's ZD series of commercial zero-turn mowers. It features a 30.8-HP Kubota Common Rail System (CRS) diesel engine. The ZD1611 is available in three deck configurations: a 72-inch side-discharge mower, and 60- and 72-inch rear-discharge mowers.
Kubota's SZ Series commercial stand-on mowers include the SZ19NC-36-2 with a 36-inch cutting deck, SZ22NC-48-2 with a 48-inch cutting deck, SZ26NC-52-2 with a 52-in cutting deck, and the SZ26NC-61-2 with a 61-inch cutting deck. Improvements include adjustable cutting deck baffles, improved serviceability, and better tire performance.
Exmark unveils new electric mower models
Exmark has unveiled some brand-new electric mower models including the Exmark Commercial 30 V-Series Electric Walk-Behind Mower. Designed to deliver true commercial performance while eliminating engine exhaust emissions and reducing noise, the Commercial 30 V-Series lets you mow during times you used to avoid. Powered by three 60-Volt Flex-Force batteries, the Commercial 30 V-Series is the quietest, most productive commercial walk-behind mower available today.
The Exmark Lazer Z V-Series Electric Zero-Turn Mower is the company's electric version of its Lazer Z zero-turn riding mowers. Available with a 60-inch Adapt-equipped Series 6 electric cutting deck, the Lazer Z V-Series is the commercial electric zero-turn mower you need to lead the pack.
In addition, Exmark has added larger Vertex X-Series and compact Vertex E-Series models to the Vertex line for 2024. The new machines join Exmark's existing Vertex S-Series and electric Vertex V-Series models for the new year. Vertex E-Series gives contractors a more productive option for lawns with gates or limited access. With up to a 72-inch cutting deck, Vertex X-Series is the most productive Exmark stand-on mower to date.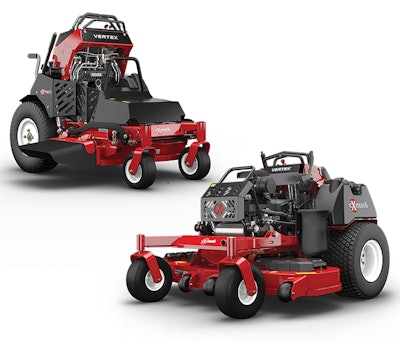 Z Turf Equipment adds stand-on aerator
Take your productivity and profitability to new heights with the Z-Aerate 50 stand-on aerator. With its massive 50-inch, 12-row aeration head and 25HP Kohler Command Pro engine, the Z-Aerate 50 is capable of aerating up to four acres per hour. The built-in spreader and 150-pound capacity hopper deliver multi-functional versatility that enables you to work less and make more money.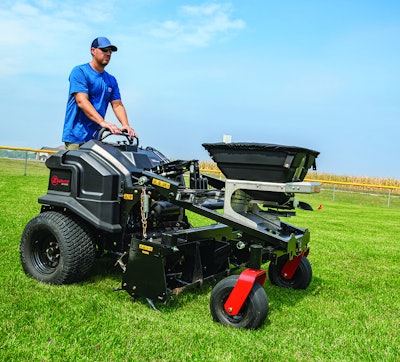 Husqvarna introduces autonomous mower solutions, and more
At the show this year, Husqvarna will spotlight their boundary wire-free, autonomous mowing innovation with the Automower 550 EPOS and 450 EPOS, in addition to the V500XA Semi-Autonomous stand-on mower.
Husqvarna's latest zero-turn mowers will also be on display. Professional users can look forward to the Z560XS Zero Turn mower which combines productivity, durability, and cut quality for exceptional mowing efficiency. The residential use Xcite Zero Turn Mower will be showcasing new models featuring the best-in-class suspension system* for a smooth ride.
"We have a clear mission at Husqvarna, to be the trusted partner for all our customers in shaping the landscapes of tomorrow while still meeting their needs today," said Carlos Haddad, Vice President of North America, Professional Products at Husqvarna Group. "Our latest offerings showcased at Equip Exposition, provide tangible solutions to further this mission. We have combined our global innovation capacity with a deep understanding of everyday customer challenges to develop battery and autonomous solutions uniquely suited to not only meeting their current needs but also anticipating what they will need tomorrow."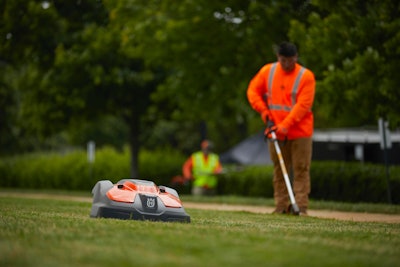 Greenworks showcases battery-powered solutions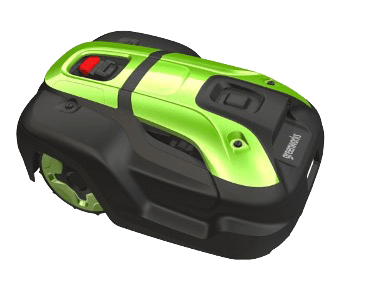 Greenworks has some exciting new products on display, including its AiConic Robotic Lawn Mower, which we previously wrote about here. Unlike traditional robotic mowers that rely on boundary wires, the AiConic mower leverages RTKVision technology, combining satellite-based navigation with advanced cameras and sensors. This eliminates the need for boundary wires, making installation and troubleshooting a less stressful experience.
Greenworks has also introduced its 82V 22-inch self-propelled commercial mower at the show. The highlight of this mower is its corrosion-resistant cast aluminum deck, designed for heavy-duty applications.
A new BB361 Battery Backpack Blower will also be on display. It features three-speed functionality, offering low, medium, and high with a built-in turbo setting. Even on the lowest setting, the BB361 operates at a whisper-quiet 65 decibels, ensuring compliance with noise regulations in virtually any community.