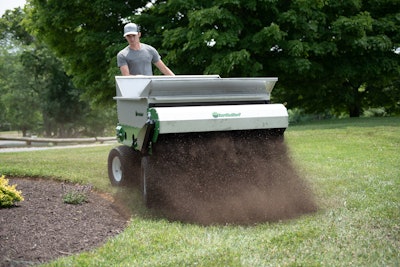 Earth & Turf Products
Earth & Turf Products, based in Kirkwood, Pennsylvania has introduced a stand-on topdresser, the MultiSpread 415 SP. Though there are a variety of uses, this unit targets compost and sand spreading to manage soil health.
The equipment launch comes as a direct result of customer demand. According to the company, in recent years, their customers have asked for a stand-on version of their topdresser. They desired a machine that could cover ground faster than walking, that doesn't require a towing vehicle, and that spreads evenly.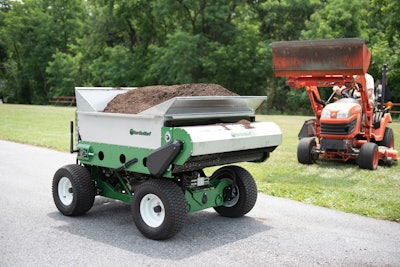 For two years, the company's engineering team sought out the ideal spreader system and came up with the 415-SP.
The unit is self-propelled, with a stand-on plate on the back. It has a 4-wheel hydrostatic drive system which means there is a motor on each wheel, allowing for 4 wheels to drive if need be.
The spreader boasts a 15-cu. ft. hopper that can be heaped to 1 yard of light material and spreads 48" wide at a top speed of 7MPH. The expeller brush spins fast enough to propel material into the grass canopy ahead of you, while stiff bristles regulate the spread