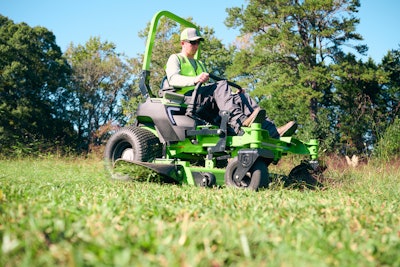 Greenworks
Greenworks Commercial, a provider of battery-operated outdoor power equipment, recently announced the OptimusZ Range, a technologically advanced and innovative product line of commercial zero-turn ride-on mowers. This series offers faster, more powerful, more profitable and more sustainable benefits.
The OptimusZ Range consists of:
· 48-inch, 52-inch and 60-inch ride-on platforms with 18kWh and 24kWh battery modules
· 48-inch, 52-inch and 60-inch large stand-on platforms with 18kWh and 24kWh battery modules
· 32-inch and 36-inch compact stand-on platforms with 8kWh battery modules
The OptimusZ Ride-On zero-turn mower leverages a powerful 24kWh battery capable of up to eight hours of runtime. Landscapers can now confidently mow up to 21 acres on a single charge from sunrise to sunset, completing the job faster than ever before with a top cut speed of 16 MPH.
This ultra-high-performance mower operates with the equivalent power of a 65HP gas engine and is equipped with three direct-drive cutting motors capable of achieving and sustaining a constant 19K FPM blade tip speed with up to 16 MPH cutting speed in any grass conditions.
These motors intelligently adjust to various grass conditions to provide users with an unmatched quality of cut, every time. With the absence of pulleys and belts, this mower is virtually maintenance free.
"I believe this product line will shock the world," said Mason Cain, product manager of commercial mowers and cordless vehicles at Greenworks. "These new ZT's not only address multiple pain points but also have the ability to do a job faster, at a higher quality, and with a better ROI."
OptimusZ is engineered to handle any terrain, cutting along slopes of up to an astounding 25 degrees. The revolutionary, innovative design features two industry-first, low-profile hub drive motors in the rear wheels that constantly monitor and respond to changing conditions, providing adaptive traction control.
The "battery-first" design maximizes the space within the chassis, allowing for the battery to be housed directly beneath the rider, achieving the lowest center of gravity in the industry. The superior cutting and drive systems, its innovative design and intelligent CAN bus system not only help make this the most agile and powerful zero-turn mower line-up on the market, but also the most compact.
Designed to tackle the most demanding commercial applications, OptimusZ brings comfort and safety to the forefront; with features including 360-degree, high-intensity HALO lighting LED illumination, foldable Roll Over Protection System (ROPS), safe LFP lithium-ion battery technology, ultra-quiet operation, built-in protective measures, and unrivaled response time and user control.
Greenworks Commercial offers rapid charging capability, allowing users to achieve a full charge in three hours to keep them on the job, maximizing efficiency. With productivity engineered into each facet of these machines, OptimusZ allows for a drastically quieter operation, earlier start times, longer working hours and increased profitability opportunities.
This line-up consists of up to 80% fewer moving parts than gas classmates, resulting in the elimination of related maintenance fees, part replacements, winterization, and associated downtimes. Landscaping crews can now breathe easy with no fumes, no headaches, no trips to the gas stations and no vibration fatigue. Incorporating OptimusZ into a fleet has a projected savings of $29,475 in year five, all with zero emissions.
Not only do these machines help generate more profit than the gas competition, but they also help secure investment with the industry's first real-time Green Shield theft protection. And 4G/GPS connectivity comes standard across the entire OptimusZ Range enabling fleet management via the Greenworks Fleet Connect app anytime, from anywhere.
This connectivity provides instant visibility to usage statistics and live insights to the battery status and all systems functions. The 4G module enables over-the-air (OTA) software updates to guarantee every OptimusZ always has the latest and greatest software without ever having to step foot in a dealership or repair shop.
For those looking for a stand-on experience, Greenworks Commercial has delivered an intelligent design that allows operators to optimally stand between the rear wheels of the machine, achieving the lowest center of gravity in the industry.
Greenworks Commercial is introducing the first ever battery-powered 32-inch and 36-inch compact stand-on mowers.
This exciting addition to the OptimusZ Range features smaller deck sizes, providing landscapers more visibility around the mower and allowing them to fit in much tighter openings, all while eliminating maintenance and service, emissions, and fumes.
The OptimusZ Range of Zero Turn mowers provides cutting-edge technology that allows landscapers to efficiently provide premium services that meet local ordinances and HOA requirements. With multiple patents, Greenworks coins the OptimusZ range "the ultimate productivity machines.
For more information on Greenworks Commercial products and its entire award-winning line of professional-grade tools, visit http://greenworkscommercial.com.