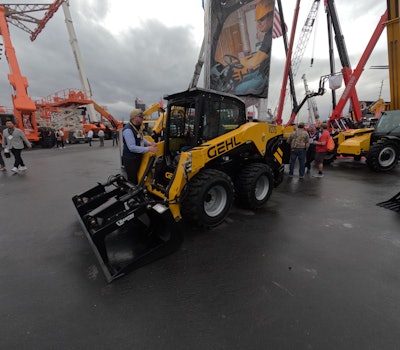 Equipment World
Manitou announced an overhaul to its global compact loader lineup at ConExpo-Con/Agg 2023.
Three V-Series skid steer loaders and three VT-Series compact track loaders, available under the Gehl and Manitou brands respectively, make up the refreshed range.
New Manitou compact track loaders include the 2100 VT, 2300 VT and 27500 VT. Gehl-equivalent models are the VT210, VT230 and VT275. Additions to the Manitou skid steer line include the 2100 V, 2300 V and 2750 V, while Gehl's versions will don the V210, V230 and V275 nomenclature.
Lift capacities for the six new models range from 2,100 pounds to 2,750 pounds. All models are vertical lift and feature a new lift arm design.
Manitou says improvements have focused on five main areas: safety, comfort, productivity, simplification and serviceability.
The operator's station has been redesigned with an improved version of Manitou's patented folding door, as well as a new window and roof design for better sightlines.
"Operator comfort is linked to performance," said Arnaud Boyer, vice president, marketing and product development, Manitou. "We have a much larger cab that is easier to get in and out of from our patented access door and structural changes for more visibility."
For added comfort, the track loader range comes standard with the patented "IdealTrax" system, ensuring automatic track tensioning and extended track life.
Compared to the previous range, breakout force is now 12% higher on average and the tank capacity has increased by 14%, allowing greater productivity.
The new loaders feature keyless start, LED lighting and a patented pilot joystick system as standard. A lifting cab and centralized maintenance points make it easier to perform daily checks and repairs. Optional features include additional LED side lights, high hydraulic flow and a rear camera.
Manitou says the total cost of ownership of these models has been reduced, with the VT 210 model, for example, boasting a TCO of $20 per hour. This is an average reduction of 7.2% over the previous model range.
Last year, the company announced a $74 million investment plan to expand and modernize its U.S. production facilities. The new skid steer and CTL models will be manufactured in Manitou's Madison facility in South Dakota.

Manitou

Manitou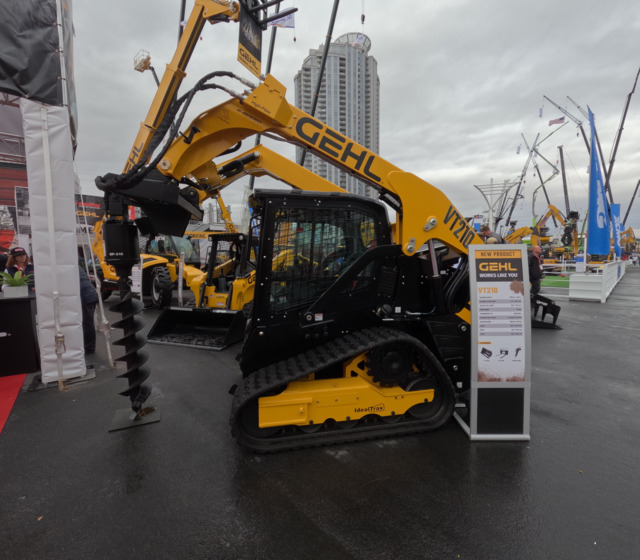 Gehl V210 Compact Track LoaderEquipment World