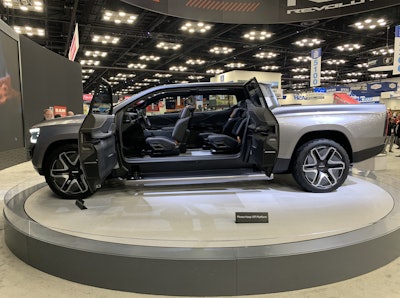 Tom Quimby
Ram rolled out an electric midsize pickup concept to dealers recently and according to Ram CEO Mike Koval the truck was well received.
"I had 6,000 of my best friends in the arenas, and I was looking for the thumbs up or the thumbs down," Koval told Green Car Reports. "And they would have to tell you but I think it's overwhelmingly positive."
The news follows Ram's unveiling of its electric REV 1500 in February which Koval said at the time will offer faster charging, better range and greater towing and payload capacities when the truck rolls out in late 2024.
No truck manufacturers in the U.S. are currently offering a midsize electric truck though the Rivian R1T is somewhat of a tweener whose size places it in between a mid- and full-size truck.
Ram would not be the first OEM to roll out an electric midsize truck. That distinction goes to GM with its electric S-10 followed quickly by the electric Ford Ranger.
Both trucks were introduced to fleets in California in the 1990s. Nearly 500 electric S-10s were made for model years 1997 and 1998. Only 60 were granted a reprieve from GM's crusher because they had been sold and not leased to fleets like the others.
The electric Ranger enjoyed a longer lifespan from model years 1998-2002. Reports indicate that between 1,500 and 1,700 units were made. Most of those trucks were leased to fleets and were eventually rounded up and sent to the crusher.