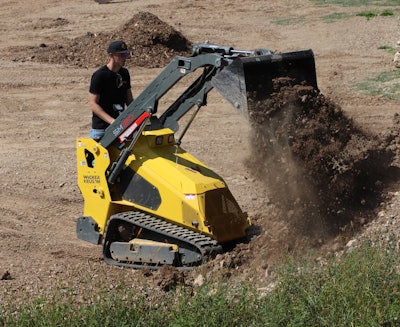 Wacker Neuson
Wacker Neuson has expanded its compact utility track loader lineup with the launch of the SM60 and SM120, to complement the launch of the SM100 in late 2021.
These stand-on track loaders (also known as mini skid steers or compact utility loaders) are designed for operator comfort, ease of operation, and to reduce overall cost.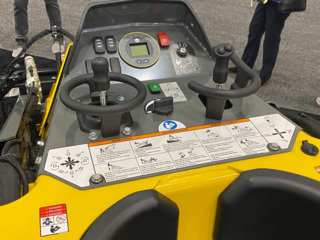 The Wacker Neuson utility loader controls and hand rests are designed to reduce operator fatigue.Wacker NeusonAccording to Wacker Neuson, the loaders are ideal for landscaping projects, light site work, grading, auguring, general material handling, and more.
The spring-suspended operator platform makes it easy to use and allows one person to complete multiple tasks while getting on and off, the company says.
The platform has an operator presence pedal and hydraulic function lockout to prevent accidental movement of the lift arm and drive functions. Front-mounted coolers keep hot or dirty air off the operator's legs.
The joystick controls are angled forward to position the operator's hands in a neutral position to reduce fatigue.
Wacker Neuson says the sloped hood provides good visibility to attachments and the front work area. Numerous compatible attachments are usable via a common industry interface.
Like Wacker Neuson's skid steer line, the utility track loaders are designed and manufactured at the company's Menomonee Falls, Wisconsin, facility.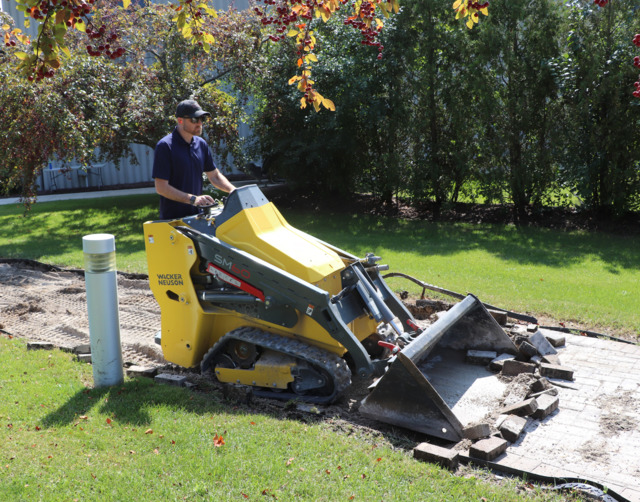 Wacker Neuson
SM60
The smallest in the utility loader series is the new SM60.
Powered by a 26.5-horsepower Kohler Command Pro EFI gasoline engine, the SM60 is designed for smaller, DIY jobs. Wacker Neuson says this unit is ideal for rental and homeowner applications.
The SM60 has 7.1-inch-wide tracks and an overall width of 35.5 inches. It has an operating capacity of 600 pounds at 35% of tipping load and a travel speed of up to 3.9 mph.
The machine weighs 2,760 pounds, and it has a hinge pine height of 75.6 inches to reach truck beds and Dumpsters.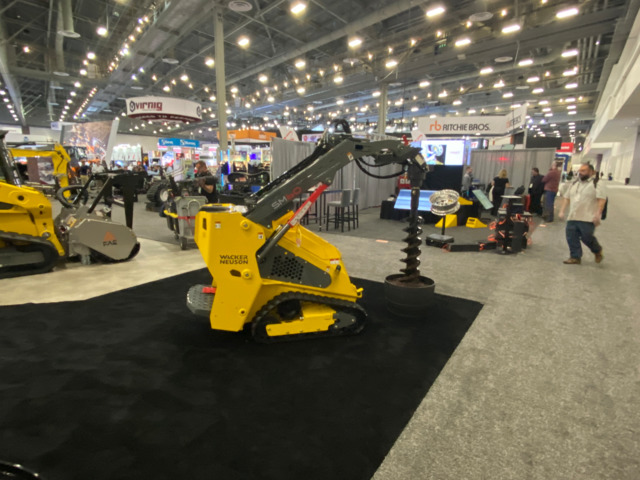 Equipment World
SM120
Designed for professionals who need to lift, move and place more during landscaping, tree service, or site work, the SM120 has a rated operating capacity of 1,226 pounds.
A suite of unique features has been incorporated into the machine to further enhance its productivity. The QuipGrip proportional auxiliary hydraulic controls mounted on the grip allow the operator to operate all three controls simultaneously to reduce cycle times.
Also, Wacker Neuson says the SM120 is the first machine in this class to feature ride control. The company says ride control provides hydraulic cushioning to the lift arms to reduce material spillage and provide a smoother ride. Operators can easily engage and disengage ride control via a grip-mounted button.
Lastly, a 14-pin attachment control offers enhanced controllability for complex hydraulic attachments, such as snow blowers.
The SM120 weighs in at 3,300 pounds and runs on a 24.7-horsepower Yanmar diesel engine, it has a rated operating capacity of 1,226 pounds at 35% of tipping load and a travel speed of up to 5.2 mph.
The 41-inch-wide machine is equipped with 11-inch-wide tracks, lowering ground pressure to reduce turf and soft ground disturbance.
As for its lift design, the SM120 features a radial path design that provides vertical path performance with a hinge pin height of 85.6 inches, allowing for dumping in high-sided trailers, truck beds, and dumpers.
Quick Specs
SM60
Engine: 26.7 hp
Weight: 2,760 lbs.
Speed: 3.9 mph
Width: 35.8 in.
Track length: 7.1 in.
Hinge pin height: 75.6 in.
Rated operating capacity: 602 lbs. at 35% tipping load
SM120
Engine: 24.7 hp
Weight: 3,300 lbs.
Speed: 3.9 mph
Width: 41 in.
Track width: 11 in.
Hinge pin height: 85.7 in.
Rated operating capacity: 1,226 lbs. at 35% tipping load