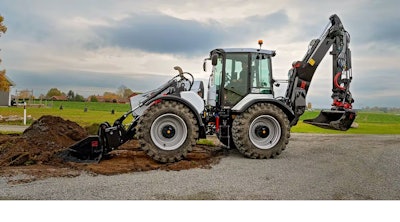 Huddig
Claiming the world's first commercial hybrid diesel-electric backhoe in 2021, Swedish manufacturer Huddig has launched two new backhoes, including its first hybrid model for the U.S.
The 1370T features a hybrid engine system that can run solely on electricity for up to two hours with the same performance as when running solely on diesel. The company says the diesel engine automatically kicks in when the battery needs to be recharged, and it can recharge the battery in 40 minutes while operating. It can be recharged by power outlet as well.
Running the hybrid model in electric (EV) mode delivers quiet operation and reduces fuel costs. The hybrid technology can also deliver a 30% instant boost in power when needed.
The backhoe has a power (PWR) mode and ECO mode for working with a mix of diesel and electric power.
The hybrid system features Huddig's Tigon Technology. Its electric drive runs on a 44 kWh 90-volt battery that has a power output of 81 kilowatts, which is equivalent to 108 horsepower. The diesel engine is a 4.5-liter, 154-horsepower Cummins.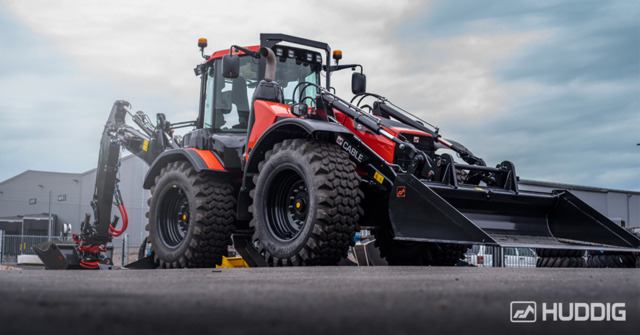 Huddig's 1370 diesel backhoeHuddigHuddig has also launched its 1370 diesel model in the U.S. that runs on a 157-horsepower 6.7-liter Cummins. The engine can also run on HVO biodiesel to reduce carbon emissions.
Both models, which were launched in the U.S. at ConExpo 2023, follow the company's 1260E diesel backhoe and the 1260T, which came out in 2021 as the world's first hybrid backhoe. The 1370s get 10% greater reach than the 1260s at 23.6 feet and an 18% increase in lift height to 14 feet. The backhoes also get an improved HVAC system, a new 10-inch LCD display and a new coupler for attachments.
FlexLever, a third hydraulic outlet, is an option that makes it possible to operate three hydraulic functions at the same time with joystick buttons.
The 1370T weighs 32,231 pounds, while the diesel 1370 weighs 29,101 pounds.
Huddig offers the 1370s in three configurations other than standard. Those are "City" for confined urban areas, "Cable" for installing power lines and laying cable, and "Rail" for railroad work. The backhoes come with options specifically designed for those segments, if chosen.
Huddig's dealers in the U.S. are Supertrak Inc. in Punta Gorda, Florida; and Vancer Railway Group in Lincoln, Nebraska, and in Galesburg, Illinois.