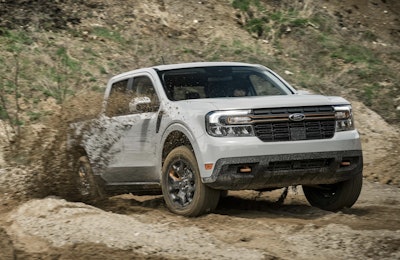 Ford
Hot demand for the Ford Maverick has made it the only pickup on a list of vehicles with the highest prices above MSRP.
In a list compiled by iSeeCars showing the top 20 vehicles with the highest prices above MSRP, the compact Maverick takes the 11th spot with an average price of $30,998 or roughly $5,000 more than its MSRP of $25,892. For those doing the math at home that equates to a 19.7% mark up.
The Jeep Wrangler Limited sits at number one with an average price of $54,970, a 31% uptick over its MSRP of $41,966. Maverick is the lone pickup on the list which iSeeCars executive analyst Karl Brauer attributed to plenty of attractive factors.
"The Ford Maverick represents an incredible value in today's new car field," Brauer said. "With a low starting price, high content level, and advanced standard hybrid drivetrain the Maverick appeals to buyers seeking a low-cost truck with excellent utility and fuel efficiency. It also benefits from being a Ford truck because Ford has established a massive truck following over the last 4 decades with its popular F-Series, and that adds to the Maverick's potential buyer base. All of this adds up to a truck with strong market appeal, allowing dealers to charge well over MSRP without hurting Maverick sales."
[Related: Ford rolls out Tremor edition of Ford Maverick]
In another top 20 list showing vehicles with the lowest or closest prices to MSRP, the Ford F-150 Hybrid took the number three spot just above the Chevy Silverado 1500 at number five. No other pickups made the list.
The F-150 Hybrid is averaging .8% below MSRP at $84,146 while the Silverado is selling at .4% below sticker at $51,835. Brauer said he was surprised to see the F-150 Hybrid on the list.
"The standard (non-hybrid) F-150 still has relatively strong demand and pricing, but the hybrid version isn't seeing the pricing premium the regular truck is pulling in the current market," he said. "This surprises me because the F-150 hybrid offers a compelling blend of fuel efficiency and utility, especially with its ability to power work site equipment through its Pro Power Onboard technology. But price is ultimately a reflection of supply and demand, and the higher cost of the hybrid version might be more than most truck buyers are willing to pay, keeping the F-150 hybrid's price close to MSRP in a market where the average model is priced 8.5 percent over MSRP."
Brauer pointed out that historically pickups have been typically marked below MSRP.
"Automakers are trying to adjust production of key models to avoid over-supplying dealers and hurting market pricing. But even at — or below — MSRP, trucks represent a strong profit center for automakers," Brauer said. "For most of their history trucks have sold below MSRP while still driving the bulk of profit for domestic brands like Chevrolet, Ford, and Ram, so it's possible they'll continue to produce these models even in the face of falling transaction prices."