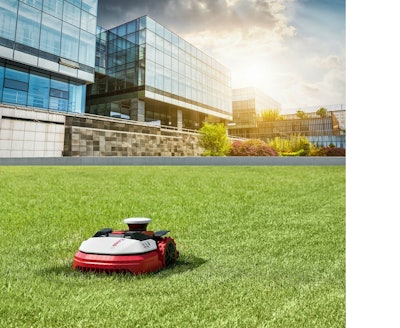 Kress
Kress, an outdoor power equipment manufacturer, has announced the introduction of a new line of robotic lawn mowers equipped with innovative positioning technology. The Kress real-time kinematic network (RTKn), combined with Mowing Action Plan (MAP) technology, allows for satellite-precise multizone management. This means the Kress Mission and Mission Mega units can mow in systematic parallel or diagonal lines.
Using Kress's proprietary RTKn network, Mission mowers require no boundary wire or on-site antenna installation. All it takes is one-time virtual mapping and the mower will automatically mow on a schedule set by the user. With five models to choose from with mowing ranges from three-quarters of an acre to nine acres, the entire line of Kress robotic mowers supports a Regenerative Brake System (RBS) which converts kinetic energy into stored power for increased battery life and longer runtimes. Additionally, the mowers have an IPX5-rated washable underbody and an Obstacle Avoidance System (OAS).
"At Kress, we have designed an autonomous mower that mows like you, without you," said Todd Zimmerman, vice president of product development. "The Mission mower performs the mundane task of mowing with exacting accuracy that provides beautiful results. The Mission RTKn mower will exceed the expectations of anyone who takes lawn care seriously, from homeowners to facilities managers at sites such as golf courses, municipalities, and universities."
Kress Mission autonomous mowers also cross driveways and walkways to mow multiple zones and continually learn the most efficient routes for better, quicker cuts. All models are equipped with advanced mobile functionality giving the robot mowers the ability to connect to cellular networks for adjustable cutting length, software upgrades, remote controllability, theft protection, and weather-related working schedules.
Kress products are available at Kress dealer locations across the United States and Canada. For more details about Kress products or to find a nearby dealer, visit www.kress.com.