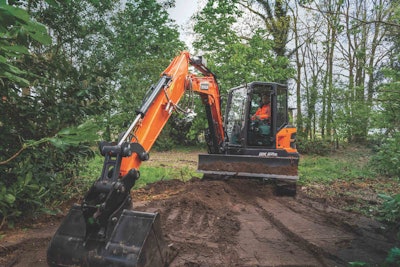 Develon
Develon, formerly known as Doosan Infracore, has rolled out two new 6-metric-ton compact excavators, the DX63-7 and DX62R-7, that the company says have been redesigned inside and out.
Both run on 57.5-horsepower Develon D18 engines and have dig depths of 12 feet 5 inches. The main difference between the two excavators is that the DX62R-7 has a reduced tailswing of 7 inches of side overhang and zero rear overhang. The DX63-7 has a conventional tailswing of 14 inches of side overhang and 4 inches of rear overhang.
Both are geared toward construction, utilities and landscaping work and have optional long-arm configurations.
In the cab, Develon makes heat and air conditioning standard and provides multiple vents throughout. The framed full-glass door is designed to give the operator visibility to the excavator's sides, which helps when working in tight areas.
Other standard features include Bluetooth audio, selectable control patterns of ISO or BHL and a travel alarm to notify surrounding workers. Available options are a rearview camera and a rotating safety beacon. Steel tracks are also available.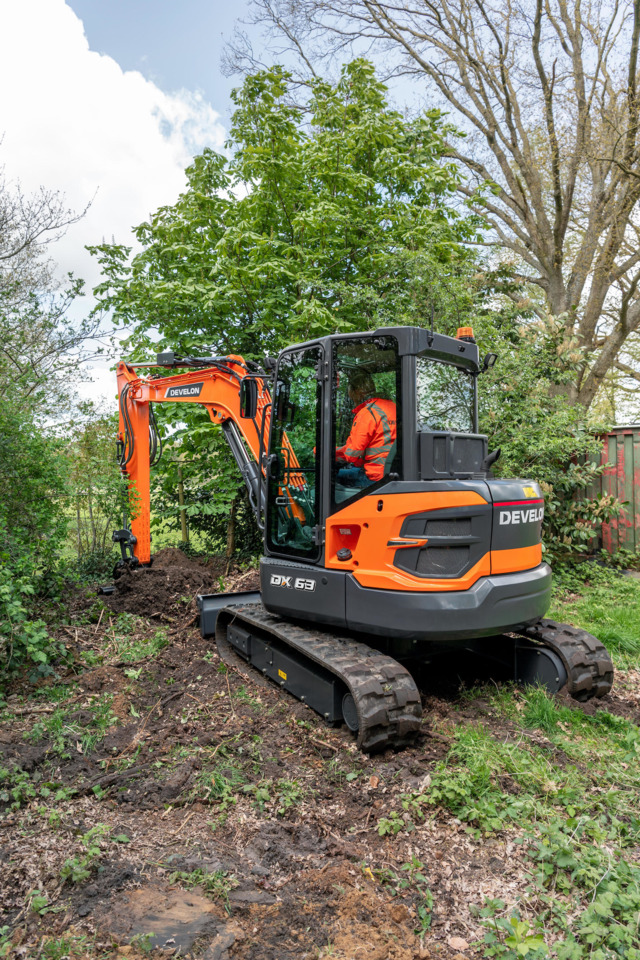 Develon's DX63-7 has a conventional tailswing.DeveloneThe excavators' arm comes already equipped for attaching a thumb and has hydraulic lines for a quick coupler.
Standard tech includes auto idle, which idles the machine when functions are not used for a few seconds, and auto downshift when turning, grading and maneuvering to prevent the excavator from bogging down when traveling. The excavators automatically shift back into high range as the load decreases, the company says.
For working in tight spaces, Develon gave the excavators a "width-protected swing frame" in which the excavators' swing casting and cylinders remain within the track width at full left-swing. This helps when offset digging next to a wall or other structure to prevent damage to the components. The excavators also have integrated counterweights for increased lifting capacity.
For operating attachments, Develon put control at the operator's fingertips. The company added one-way and two-way hydraulic flow for handling a variety of attachments, both of which are activated by joystick instead of foot pedal. A thumb switch on the right joystick controls auxiliary hydraulic functions. Boom swing is controlled by a thumb switch on the left joystick.
Develon Fleet Management telematics comes with the excavators for remotely monitoring the machines for location, production and service via app or website. If owners choose, dealers can also use the system to monitor their machines to alert them to upcoming service needs.
The excavators are also compatible with Develon's Smart X-Care service in which equipment specialists track the machines' telematics from a monitoring center and deliver real-time data as well as provide recommendations and reports.
Quick Specs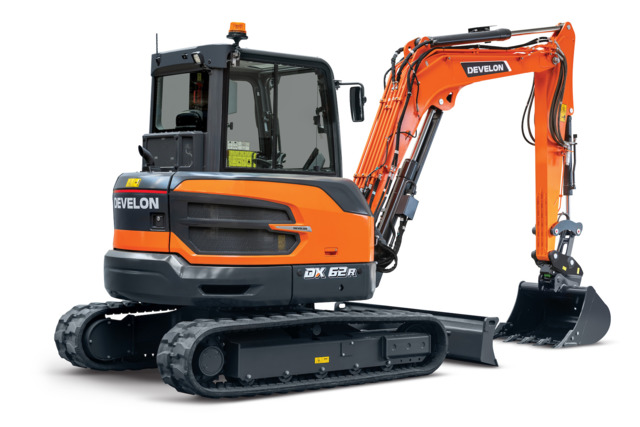 Develon
DX62R-7
Net horsepower: 57.5 @ 2,300 rpm
Operating weight: 13,704 lbs.
Maximum digging depth: 12 ft. 5 in.
Maximum digging reach (ground): 20 ft. 3 in.
Maximum loading height: 13 ft. 3 in.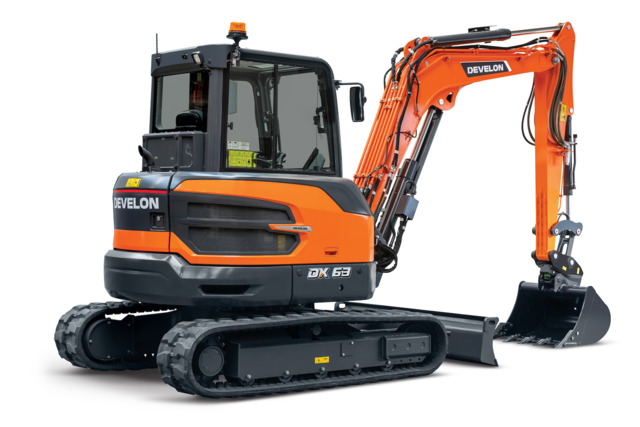 Develon
DX63-7
Net horsepower: 57.5 @ 2,300 rpm
Operating weight: 13,708 lb.
Maximum digging depth: 12 ft. 5 in.
Maximum digging reach (ground): 19 ft. 8 in.
Maximum loading height: 13 ft. 3 in.