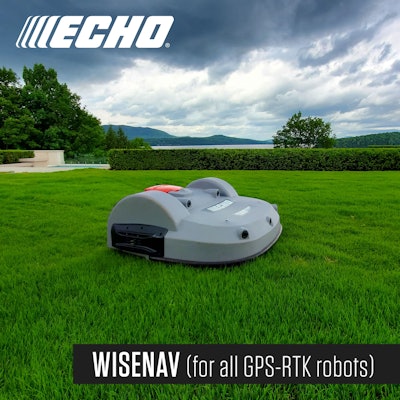 ECHO
ECHO Incorporated, a manufacturer of high-performance outdoor power equipment for commercial and consumer use, has announced new products to their portfolio, during their 2023 Media Summit, Power Up and Power On.
The new lineup includes a full range of eFORCE 56V battery-powered handheld products, including Series 56V tools, along with a new battery and two new chargers offering increased run time and expanded charging options for the professional landscape. The company has also improved upon its robotics technology.
"We've started trends, like inventing the first backpack and handheld gas blowers, and we've witnessed emerging trends, such as the current industry shift towards increased use of battery-powered tools.ECHO continues to innovate and adapt to better serve our professionals. We're pleased to be launching the expanded range of XSeries 56V best-in-class products, now offering landscapers a commercial-grade battery option within every product category's portfolio," said Wayne Thomsen, VP of Marketing and Product Management, ECHO Inc.
New product lineup
On top of the new battery handheld products, the new lineup also includes two category-leading gas-powered backpack blowers, a gas-powered chainsaw, and Wisenav technology for ECHO Robotics autonomous mowers.
Enhanced robotics technology
ECHO's Robotics Wisenav Technology uses RTK GPS navigation technology and georeferencing alerts for its autonomous mowers. This new technology will improve the performance of the TM-1000 and TM-2000.
Blowers
The new product lineup includes five new backpack blowers, including three new gas-powered blowers.
Battery hedge trimmers
All five of ECHO's new hedge trimmers are powered by 56-volt batteries. This includes two single-sided hedge trimmers, two double-sided hedge trimmers, and an articulating shafted hedge trimmer.
Pruners and chainsaws
The recent reveal also included two new chainsaws and pruners. The DCS-2500TN chainsaw is very lightweight and features a nano-style chain for efficient cutting with less vibration.
Edgers
The new product reveal also included two new edgers, one for the homeowner or "prosumer" (the DPE-2100) and one for professionals.
Attachment series
The new lineup also includes the DPAS-2600 powerhead, powered by the ECHO eFORCE 56V battery system, compatible with 16 different attachment heads.
New battery, chargers
A new LBP-56V400 lithium-ion battery and two chargers were introduced to help keep these products running.
The LC-56V5A2 Dual Port Rapid Charger will help meet the needs of users who require multiple batteries to get the job done. Meanwhile, the 56V Top Mount Charger is a compact design that charges one 56V battery at a 1-amp charge rate.