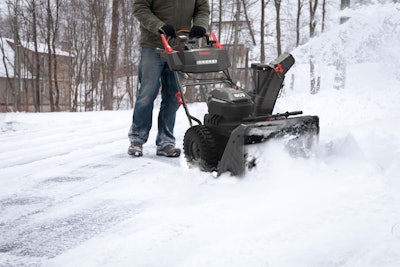 Kress
Kress is adding a 24-inch, 2-stage self-propelled snow blower to its lineup. Supported by Kress 60V Max batteries - with power output on par with traditional gas-powered machines - it can tackle up to eight inches of snow on a 21-car driveway in one charge using two 5Ah batteries.
With a throwing distance of nearly 52 feet, Kress' 2-stage self-propelled snow blower is specifically designed for homeowners who require efficient snow removal without the noise and smell of gas equipment.
"Gas-powered snow blowers are loud, difficult to maintain, and face bans in many communities nationwide, but until now battery-powered blowers rarely had the capacity to quickly remove heavy snowfall with one charge," said Todd Zimmerman, VP of product development. "We applied our leading technology to design a battery-powered snow blower that produces gas-like output with optimal handling. It's designed to withstand winter's harsh conditions."
The Kress 2-stage self-propelled snow blower, supported by Kress 60V lithium-ion batteries that fully charge in less than an hour, features two high-power brushless motors – one for plowing and one for propelling. It's also equipped with a 2-in-1 discharge chute control system, variable speed auger, 15" pneumatic snow tires, dual battery ports, and LED lights for easy operation in low light, such as clearing the driveway at dawn or dusk so family can depart and arrive on-time despite heavy snowfall.
Homeowners operate the machine with a user-friendly control panel, including three variable forward speed settings and a reverse drive function. The blower's self-propelled feature moves the machine forward and frees the user's other hand for panel control.
Engineered with durable, rust-resistant materials to withstand rough and tumble conditions, the Kress 24-inch 2-stage Self-Propelled Snow Blower is backed by a five-year warranty; the battery has a 3-year warranty. The Kress Snow Blower, along with all Kress products, is available at Kress dealer locations across the United States and Canada.
For more details about Kress products or to find a nearby dealer, visit www.kress.com.