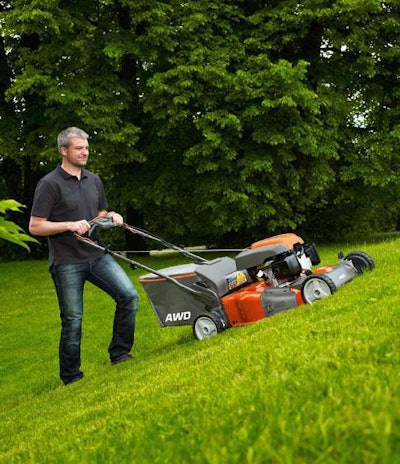 From water features to a durable phone and mower, here are new products to look for.
Rugged Communication

You use equipment that can handle the extreme demands of the jobsite, so why should your smartphone be any different? Caterpillar released the Cat B15 Android phone that can withstand dropping, knocking, water and dust. The Cat B15 has a dual core 1GHZ processor, 4-inch multi-touch screen, up to 9 hours of talk time, camera, 4GB of storage and is protected by silver anodized aluminum and shock-absorbent rubber. For more information, visit cat.com.

All Wheel Drive

With a 3-in-1 cutting system, the Husqvarna HU800AWD mower can bag, mulch and side discharge, as well as pull in grass with a side bumper. This all-wheel drive mower has a 22-inch, heavy-duty steel deck with a 190-cc Honda engine. The HU800AWD is also equipped with a quick pin, four-point adjustment and a water hose connector. For more information, visit husqvarna.com.

Contain Water

Instead of turning to PVC or HDPE, EasyPro Pond Products gives landscapers and their clients an alternative with their Integra Liner for water features. The liner is available in rolls and precut boxes or bags. The Integra Liner is also safe for fish, plants and wildlife, and it is flexible under extreme temperatures. For more information, visit easypropondproducts.com.

Unwind Under Pressure

Coxreels expanded its hand-crank and motorized 1125 Series reels to offer an upgraded swivel for high-pressure applications. With a 5,000-psi operating pressure, the HP1125's external fluid path is configured with electroless nickel-plated steel, 90-degree full-flow NPT swivel inlet. The high-pressure option is available for 1/2- and 3/4-inch models. For more information, visit coxreels.com.