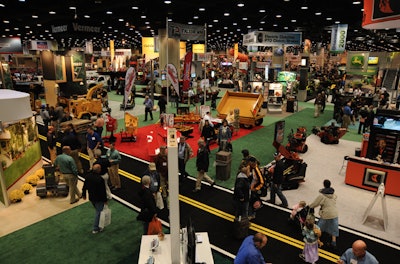 The biggest industry show of the year is less than a month away. So, before you head to Louisville, Kentucky, for GIE+EXPO, here are products and companies to be on the lookout for at the show.
Comfortable workday

The Ultra M425C air suspension seat has double-locking slide rails, 2 3/8-inch suspension stroke and a 330-pound weight adjustment. The waterproof vinyl-molded cushions are contoured for airflow.

ultraseat.com Booth #371

Calming features

Take bubbling-rock installations to a new level with EasyPro Pond Product's Tranquil Décor large basalts. Sold as a three-piece set, these natural basalts are ideal for commercial and upscale residential installations. They have an average diameter of 14 to 18 inches and are 3, 5 and 7 feet tall.

easypropondproducts.com Booth #3191

Reel hoses

Designed to handle long lengths of hose, the Hannay Reels 1500 Series is available in manual and power rewind. The reel can be truck-, trailer- or garage-mounted on wheels or carried by hand. The 1500 Series is equipped to handle 1/4- to 5/8-inch ID hoses.

hannay.com Booth #3040

Grind, clip, mulch, split

Dosko offers a line of compact, full-size and self-propelled walk-behind stump grinders; 6-, 9- and 10-foot capacity brush clippers and towable chipper/mulchers. New to the company's line are 20 and 37 log splitters.

dosko.com Booth #10108

Scoop snow

The Hiniker scoop plow, designed for parking lots and wide-area applications, has blade ends at a fixed-forward angle of 20 degrees. The scoop plow maintains full windrowing when fully angled.

hiniker.com Booth #11112

Firm footing

Composed of 100-percent recycled high-density polyethylene, AlturnaMats 1/2-inch thick ground protection mats bend to conform to the ground. They will not break, crack or splinter like wood or fiberglass. These rugged mats have been tested in hot and cold weather conditions, have a bold cleat pattern for traction and can hold 120 tons of weight.

alturnamats.com Booth #5007

Map it out

Go iLawn combines high-resolution property photos and measuring tools in one application. Landscape contractors can use Go iLawn to measure commercial and residential properties for maintenance, chemical application, irrigation, snow removal and more. Try it for free at goilawn.com/promo and use code TLCOS.

goilawn.com Booth #9055

Pick a pattern

Landscape architects can choose from a variety of laying patterns, from the classic running bond to triple basket weave, with Pine Hall Brick's Esplanade paver. Chamfered on the wearing surface, Esplanade is available in a variety of clear-burn colors.

pinehallbrick.com Booth #3202

Limit applications

Spread it & Forget it, driven by Duraction CR, is a controlled-release fertilizer that uses advanced polymer-coating technology. The coating helps reduce the number of applications without sacrificing the look of the turf.

drivenbyduration.com Booth #9168

Fixed, floating

The John Deere QuikTrak stand-on mower is available in two series – the B and R Series. The B Series features a 22-horsepower en- gine with a 7-gauge, fabricated, 52-inch fixed deck. The R Series is available with a 22- or 23.5-horsepower engine with a 48-, 52- or 61-inch, 7-gauge, fabricated floating deck.

deere.com Booth #1110

Digital designs

Drafix Software's PRO Landscape Version 19 design software includes 3D enhancements, object reorder- ing, paver tools, irrigation tools and improved fonts. This new version adds 1,000 images, bringing the total to more than 11,000 available in the software. Version 19 also has enhanced tools for photo imaging, CAD, 3D rendering and estimating.

prolandscape.com Booth #9189




Starting point

The Husqvarna M-ZT entry-level commercial ZTR mow- ers feature rugged, fabricated decks with cast-iron blade spindles. The 810-cc Endurance commercial engines have cyclonic air filtration. The M-ZT series is available in 52- and 61-inch variants.

husqvarna.com Booth #9094

Heavy lifting

Featuring 78-net-horsepower turbocharged engines, Case Construction Equipment's H Series forklifts have a zero-tail swing design and a 6,000- to 8,000-pound lift capacity. They have optional four-wheel drive, standard differential lock, 60 degrees of mast tilt and speeds up to 24 mph. The H Series also uses an outboard wet disc brake design.

casece.com Booth #7216

Engine feedback

The Grasshopper MidMount Model 327K EFI and FrontMount Model 727KT EFI zero-turn mowers are powered by 747-cc Kohler Command Pro closed-loop EFI engines. The Delphi automotive-based system features plug-in diagnostics with engine feedback and performance information for diagnosis of service issues. Model 727KT EFI can be equipped with 52-, 61- or 72-inch DuraMax cutting decks, and 61- or 72-inch DuraMax decks are available for Model 327K EFI.

grasshoppermower.com Booth #9136

Transport materials

Bri-Mar's DT714LP-LE-14 dump trailer has a 14,000-pound GVW, 30-inch deck and 5.9-cubic-yard hauling capacity. Standard features on the DT714LP-LE-14 include a 7-by-14-foot bed, heavy-duty 10 gauge steel floor, 20-inch sides, Bucher-brand pump, custom twin-telescopic cylinders and included ramp package.

bri-mar.com Booth #10140

Weed control

PBI/Gordon's TZone SE broadleaf herbicide controls cold-weather weeds using a solvent-free ester formula. It penetrates the cuticle to control broadleaf weeds including wild violet, ground ivy, black medic, oxalis, clover, spurge, speedwell and lespedeza.

pbigordon.com Booth #7030

All-purpose pavers

The Keystone Retaining Wall Systems' Country Manor system combines the rustic appearance of hand-laid stone with un- matched design versatility. Textured on three sides and using a pin-connection system, each unit has the flex- ibility to be used in multiple positions. With this design consideration, Country Manor is designed for everything from traditional retaining walls to unique outdoor living elements.

keystonewalls.com Booth #1170

Close cut

The 2014 Altoz XC Series of zero-turn mowers, the XC 720 Z, XC 610 Z and XC 540 Z, travels 19 mph and is available in 54-, 61- and 72-inch deck widths. The XC Series has three standard mulching blades with 12 cutting edges and 18,500 FPM targeted tip speed to deliver extra-fine mulching.

altoz.com Booth #11086

Fuel up

The Propane Education & Research Council (PERC) will display several propane-fueled mowers, a portable generator and a propane auto-gas pickup truck.

Compact power

The JCB 8026 CTS 2.7-ton compact excavator has short pitch tracks and auto kick-down. The 8026 excavator is powered by a three-cylinder, 24-horsepower engine.

jcb.com Booth #7196

Travel, transport

The Polaris Industries Brutus utility vehicle delivers front-end power takeoff (PTO) and has a factory-installed cab. Other features include electric bed lift for the pallet-sized cargo box, 24-horsepower diesel engine and treadle pedal.

polaris.com Booth #7024

Tackle winter weather

The SnowEx SuperMaxx II electric-powered spreaders for ice management offer cab-forward hoppers, which are made from lightweight, corrosion-resistant polyethylene.

snowexproducts.com Booth #9180

Blow and go

Clear large spaces or prepare lots before sealing with the Scag Power Equipment Giant-Vac Extreme Pro leaf and debris blower. The blower is constructed of all-welded steel and uses a 17-inch, six-blade impeller.

giant-vac.com Booth #7060

Crank it up

Using chain-driven overhead cam (OHC) technology, the Subaru EX Series engines are available in four models with power ranges from 4.3 to 14 horsepower.

robinamerica.com Booth #11170

Charge & ride

The fully electric Cushman Hauler PRO with a 72-volt AC drivetrain can travel 50 miles between charges. The Hauler PRO features a maximum load capacity of 1,000 pounds and comes standard with a 9.5-cubic-foot cargo bed.
Cutting power

Gravely, an Ariens Company brand, introduces Kawasaki Big Block engine options to the Pro-Turn 400 zero-turn mower lineup. The Pro-Turn 400 commercial models feature an air-suspension seat and an effortless deck lift. Fully adjustable control handles allow the operator to fine-tune the settings.

Gravely gravely.com, ariens.com Booth #7120