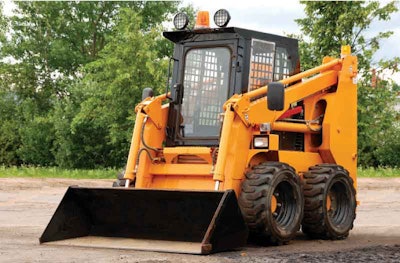 By Jennifer M. Holloway
Use these tips to ensure you get the best sale possible, whether you sell outright, trade or go to auction.
1. Upgrade appearances
Maintaining the overall appearance of the machine is vitally important — as in much else in life, first impressions are important. Have the machine cleaned throughout, says Mike Fitzgerald, loader product specialist with Bobcat Company. This includes the exterior, interior, underneath and engine compartment.
Remember, minor blemishes that weren't a hindrance to you may be found unfavorable to fresh eyes.
"Make sure doors and glass are on the equipment," says Andy Robson, vice president and general manager of TYM Tractors. "People don't like to buy tractors with bent-up doors and glass knots on them."
Also, take winterization precautions, such as using wax and protectant and keeping equipment enclosed when not in use, says Jeff Fisher, used equipment manager for Dean Machinery, a Caterpillar dealer located in Kansas City, Missouri.
Promote extra features that may be available with your machine. "If it has a loader, you'll get a better price," Robson adds.
Fitzgerald offers these questions to ask yourself: Does it present well once cleaned? Does it need touch-up paint? Does it need a completely new paint job? Does it need new decals? "These are fairly low-cost fixes that present a better image," he says.
2. Keep up with maintenance
Fisher encourages professionals to service machines at OEM-suggested intervals, and
Fitzgerald recommends spending the time and money now to fix small issues like leaks, broken parts or other minor items before selling.
Additionally, have full maintenance records on hand. Showing you kept up with the machine's maintenance is reassuring to a buyer and presents you as a conscientious owner.
3. Maintain rubber
Tires and tracks are expensive and an important consideration when reselling. Robson says to make sure the tire wear is acceptable for what you want from the sale or trade-in –"bald tires, bad idea," he says.
Fisher offers this example to weigh the significance: "A medium-sized MTL's tracks cost about $4,500. If you purchased the machine for $20,000, almost 25 percent of that cost is in the rubber. Maintain it."
4. No "best time" to trade
Though dealers regularly offer financing programs, Fisher says timing doesn't matter, as there is no way to anticipate when a program will be introduced. Furthermore, interest rates and programs vary by machine model and type.
"Trade-in financing is based on what's in the market and demand for certain equipment," Fitzgerald says.
Going once, going twice, sold!
A good resource for landscape professionals looking to sell used equipment is Top Bid, a publication and website that tracks auctions, which you can use to determine fair market value of your equipment.
Donnie Wiggins, Top Bid general manager, compares the publication to the Kelley Blue Book for automobiles. "Auctions are a good way to liquidate equipment in a short period of time because there's always a buyer at an auction," he says.
Looking for an auction? Check out the auction calendar at www.topbid.com or the print editon to find one near you.