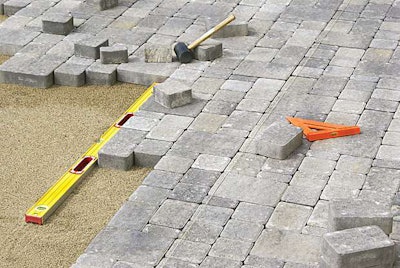 Here are steps on how to lay a good foundation for your hardscape installation services.
Between bidding a hardscape job and wowing customers with the finished product, a lot can go wrong with the installation if you don't have a sound project plan in place.
And although each project – from retaining walls to patios – requires specific tools and materials, many practices apply across the board.
Right tools for the job
As with any landscape project, there are staple pieces of hardscape equipment you should have on hand, with the most important and simplest being a string, hand or laser level, says Michael Marella, Northeast Stonescapes in Higham, Massachusetts. "Once you get a level ground, it doesn't take a long time to lay the stones," he says.
Depending on the project, excavation may require tools ranging from shovels and rakes to skid steers and excavators. If you don't own larger excavation equipment, you can either rent it or subcontract the dirt work. "Seventy-five percent of the job is the site work," Marella says.
He also suggests having screed rails (available at most big-box home stores) and a plate compactor for installations such as segmental retaining walls and patios.
For less-complex projects, a hand tamp may be sufficient, says Ken O'Neill, Belgard Hardscapes. "No matter the type of hardscape project, compaction of sub-grade materials is critical to the success of the project."
With equipment at hand, you're ready to dig in with the project.
Solid base
Retaining walls are a necessity for many landscapes, so including them in your list of services can help attract customers.
"Working in a big city, there are a lot of homes that have unpleasant slopes in their yards that make it hard for them to enjoy the outdoors," says Jessica Stoll, landscape architect, Des Moines. Retaining walls are the top hardscape project her clients request. Stoll's go-to materials for these are boulders and blocks, which give clients a choice in price and appearance.
After choosing the materials and location for the wall, measure the height required to best support the slope and landscape. A building permit may be necessary if the wall will be higher than 4 feet from the bottom of the footing to the top. If not, you can start excavating the site, digging about a foot below grade.
Next, lay your crusher-run base, followed by a line of masonry. "The first row is the most important," Marella says. "Any mistakes there will be magnified as you go up each level, so don't rush through the first course."
For additional reinforcement, you can insert a geogrid (mesh fabric) between every other course, starting after the first one. (Note: Don't use a plate compactor directly on the geogrid.)
Paver-perfect patios
Even though the recession has passed, many homeowners are looking for ways to stay put and improve their current house and landscape. A patio may be just the answer.
You can tackle these almost like a retaining wall. Remove the topsoil, make sure the ground is level and add a crushed base and sand.
Next, guide your screed rails across the base to level the crushed aggregate. When leveled, lay the pavers. After the installation, run the plate compactor across the area.
Marella then applies Techniseal's polymeric sand, which sets like concrete after water is applied and also helps prevent weeds between paver joints. A year after the installation, he revisits the project to add sealant.
So what is the secret to hardscape installations?
Whether you're laying permeable pavers or assembling an outdoor kitchen, getting a good start leads to a sturdy finished product and satisfied customers. "The overall success of a hardscape project depends on the installation contractor's ability to manage elevations," O'Neill says.
Learn from the experts
Hardscaping services can boost profits if done correctly, but there is a learning curve. "Don't expect the first few projects to be productive or even profitable," says Ken O'Neill. "Remember, practice makes perfect. Take time to educate yourself and key personnel."
Here are courses and videos to help you master the trade.
Hardscape North America (co-located with GIE+EXPO) – Certification courses, seminars, marketing tools and networking opportunities, hardscapena.com
Pavestone – "How to" videos on installing hardscape materials, pavestone.com
Pave Tech's School for Advanced Segmental Paving – Variety of hands-on courses and training videos in English and Spanish, paverschool.com
Pave Tech's School for Advanced Segmental Paving – Variety of hands-on courses and training videos in English and Spanish, paverschool.com
Pine Hall Brick – Yearly yard sale and patio installation demonstrations, pinehallbrick.com
Belgard Hardscapes – Basic and advanced classes, hands-on training and ICPI- and NCMA-certification classes, belgarduniversity.com
What's trending?
Kits: More hardscape structures, such as outdoor kitchens and pergolas, are going modular, which require less masonry skills.
Natural look: Homeowners are asking for pavers and walls that emulate the natural shape and cleft of stone.
Staying warm: Gas-lit fireplaces' popularity is spreading from California to the Northeast.