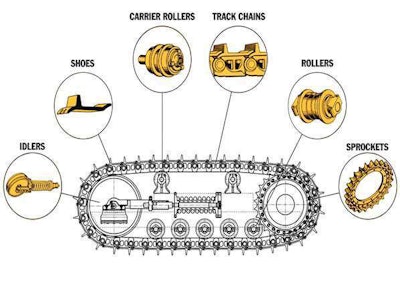 Your equipment won't get far without functional tires or tracks, so here are some undercarriage maintenance tips from Mike Fitzgerald, Bobcat loader product specialist, to keeping them rolling.
• Perform visual inspections of undercarriage components. Most manufacturers' idlers and rollers are permanently sealed and lubricated; however, they — along with sprockets and tracks — may need to be replaced periodically depending on a machine's use.
• Train operators. With the proper instruction, your crew can help reduce costs from worn tires and tracks. For example, teaching CTL operators to find ways to minimize turns or make them less abruptly or on softer surfaces will greatly reduce expensive track wear: Three-point turns, rather than spinning or counter-rotating, will help save on undercarriage wear. And training operators to clean out the undercarriage at the end of every shift will cut maintenance costs, too.
• Keep repair tools handy. The occasional track tensioning can be done with a common grease gun, and tracks can be replaced in less than an hour on some machines. Handling maintenance issues on site can help reduce the overall cost and downtime.
For maintenance tips for compact excavator undercarriages, read this equipment article.