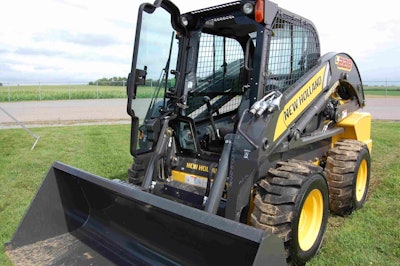 With upgrades to its backhoe and skid steer product lines, New Holland Construction's machines now all feature Tier 4 Final emissions-compliant engines.
Upgrading the engines gave New Holland the opportunity to restyle the lineup, while ensuring customer-driven features such as simplified maintenance and operator comfort are addressed, said Paul Wade, marketing manager, at an event held at the company's New Holland, Pennsylvania, headquarters.
C Series backhoes
Although some contractors have replaced backhoes with compact excavators, Wade said New Holland's backhoe sales are not on the decline, as the machines remain popular with rental companies, municipalities, utilities and mom-and-pop operations. "The backhoe market is not dying," Wade said. "We've found it's not being replaced by skid steers and mini excavators, simply because it's the Swiss Army knife of the jobsite."
New Holland's backhoe lineup includes the B95C, B95C TC, B95C LR and B110C, which range from 97 to 110 gross horsepower and have backhoe bucket breakout forces of 12,933 foot-pounds with lift capacities of 3,940 pounds at 12 feet. The backhoes deliver better fuel economy with more power and torque than previous models.
When talking about the machines' performance, Wade noted the curved loader arm design has a big impact. "The loader arms provide outstanding breakout force," he said. "You use the weight of the machine to push into the pile, and the design prevents the force from dissipating, as well as providing better durability."
Wade said additional features that make the new backhoe designs particularly user friendly include a sloped hood and flip-up windshield that improve operator visibility, and a narrow backhoe boom that enables the operator to see in the trench. Also of note are ground-level serviceability, wide stabilizer layout, a choice of mechanical or pilot controls, and an optional auto glide ride.
200 Series skid steers and compact track loaders
With new Tier 4 Final engines, New Holland's skid steers boast more power and capability. "They can still work in the same spaces, but they will perform like a larger machine," Wade said. He notes that, in New Holland's case, tracked machine sales are set to outpace rubber tired sales for the first time.
New Holland's lineup features three machines with radial lift – the 49-horsepower L213 and 52-horsepower L215 skid steers and the 74-horsepower C227 compact track loader. Seven machines feature the company's Super Boom vertical lift – the 60-horsepower L218, 67-horsepower L220, 74-horsepower L221 and L228, the 90-horsepower L230, the 82-horsepower C232 and the 90-horsepower C238.
Wade said that for those who need a vertical lift machine, the Super Boom models are big timesavers, because they provide forward dump height and reach that enable the operator to dump in the middle of the truck, increasing cycle times.
All the machines feature a long wheelbase and low center of gravity that provides stability when the load is in the air. Additional features include a wide cab opening, a flat floor well and three types of controls.
C Series compact wheel loaders
When making their compact wheel loaders Tier 4 Final compliant in the fall, New Holland completely redesigned the units, which began shipping in the first quarter of 2015. "It's a brand new restyled machine," Wade says.
The loaders are more compact in size with a reduced machine length and width, and a lower overall machine height. There are four machines in the lineup – the W50C, W50C TC, W80C and W80C HS. Three of the models, the 50-horsepower W50C and the 80-horsepower W80C and W80C HS, feature new Z-bar linkage designs that deliver increased breakout force, digging and lifting power for load-and-carry, high-production applications.
A new creep speed option is available for snow removal applications.