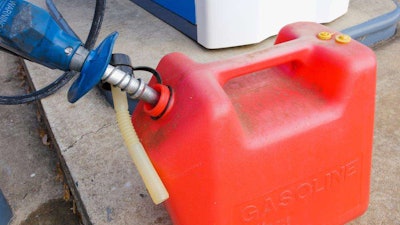 "We're pretty much stuck." That's how Christy Martin, co-owner and office manager of Greener Lawn Care, describes the dilemma facing her company as the cost of fuel remains high "We're honoring the quotes we gave at the beginning of the year and have not tacked on a fuel surcharge."
Greener Lawn Care is "stuck" for several reasons. High fuel prices have put a crimp in its profit margins, but extenuating circumstances have made it hard for the Cumberland, Maryland, landscape company to react. Its client list includes lots of elderly property owners on fixed incomes. On top of that, an out-of-town competitor is expanding into its market and is applying pricing pressure. For those reasons, updating its fleet of three gas pickups and four one-ton dually diesels with newer, more fuel-efficient models would be cost-prohibitive. "We're holding our own," Christy's husband and Greener Lawn Care co-owner Craig Martin says. "We don't like the situation, but for now we'll just have to live with it."
The Martins' mix of market pressures may not apply to every landscaper, but they're hardly the only ones grappling with high fuel prices. If you're looking for ways to keep fuel from burning your profits, you should know there's hope, provided you're willing to change some long-held habits, and encourage your employees to do the same.
Spec'ing for savings
When updating or expanding your fleet, understanding your driving patterns will help you choose the right powertrain and fuel options for any new vehicles you buy. As an example, look at the chart comparing annual fuel costs for Chevrolet Silverado half-ton pickups. In this comparison of models, the hybrid, not surprisingly, delivers the best fuel economy when compared to its stable mates. The 6-cylinder-equipped pickup uses the least fuel on the highway. For mixed use, the 8-cylinder, non-hybrid model may provide the best all-around balance of performance and fuel economy despite its slightly higher annual fuel cost, especially if you're leery of the cost and complexity of hybrid drive systems.
That's great if you can get by with a half-ton pickup truck, but what if you use trucks in the Class 3 to Class 5 (12,000 lbs. to 17,900 lbs. GVW) range? Todd Bloom, vice president of marketing for GM and Isuzu commercial trucks, says you still have a choice of gasoline or diesel-engine equipped models, although you'll have to decide if the additional cost of diesel power is worth it for your business.
""If you're running 20,000 miles per year or less, the lower operating costs of diesel will not offset the higher initial cost," he explains. "Those lower costs include improved fuel economy, lower repair costs and higher residual value, all of which lower the total cost of operation (TCO)."
Next year those ratios will change and Bloom says the break-even will likely be 30,000 miles per year. Another thing to remember is that the expense of supplying engines that comply with the more-stringent emissions standards set to arrive on January 1 will jack up the initial cost of new, diesel-engine equipped trucks.
Buyers of these classes of trucks generally drive enough miles to amortize the cost of diesel power, according to Wes Sherwood, Ford Truck communications manager. "Nearly 75 percent of our Super Duty customers choose diesel," says Sherwood. "They can justify the higher option cost because diesels are 20 percent to 30 percent more efficient than comparable gas engines."
As for GVW, Bloom says it's best to buy a truck that meets your needs 80 percent of the time. "Any additional capacity means additional weight, and additional weight comes with a fuel penalty," he notes. "There's no sense in hauling around more truck than you need. For that 20 percent of the time that your truck is too small, you can rent and you'll still save money over the course of a year."
What about E85?
E85 fuel, blended with ethanol, holds promise for cheaper operating costs – but not for everyone. There are only about 1,000 stations in the U.S. selling E85, most of them in the Midwest. Things are looking up, however. Production capacity is increasing quickly, so supply is not likely to be an issue. Availability will increase if stations see profit in E85.
Even if E85 is available in your market, there are negatives. E85's energy density is lower than that of unleaded gasoline, so fuel economy is worse – up to 25 percent worse – and refills are required more frequently. (Don't confuse energy density with octane. Energy density is the amount of energy contained in a gallon of fuel. Octane is an indication of how slowly a fuel burns during the engine's combustion cycle. E85's octane rating of 105 is higher than that of gasoline, which typically ranges from 87 to 93. But E85's energy density is lower.)
E85 is touted as costing much less than gasoline, but that's not always true. Price fluctuations are likely to continue as the market matures and basic laws of supply and demand play out. (Note that the figures given in the fuel cost chart have E85 costing a nickel more per gallon than gasoline. At the www.fueleconomy.gov Web site, you can plug in prices from your community and the annual costs will be recalculated based on those numbers.)
The big drawback to E85 is that you must have a flex-fuel vehicle (FFV) to take advantage of it. Only FFVs are engineered to run properly on E85. However, FFVs can also run on unleaded gasoline. If you buy an FFV you can burn unleaded gas while you wait for E85 to arrive in your community. Another issue is that FFVs are currently available only as half-ton models.
For a list of flex-fuel vehicles and stations, visit the National Ethanol Vehicle Coalition's Web site at www.E85fuel.com.
Beyond fuel economy
"In general, fuel economy does not rate very high in our heavy-duty customers' purchase considerations," Sherwood notes. "In fact even though it has crept up a bit, fuel economy isn't even among the top 10 factors that currently drive buying decisions. Our customers prioritize elements of capability, durability and dependability because their livelihoods depend on this mix of features. They'll sacrifice some fuel economy for their must-have needs."
Lenny Clark, CEO of Kona Land and Waterscapes in Tempe, Arizona, agrees with Sherwood. "Saving fuel is important, but there are other factors that matter more at the bottom line," Clark notes.
Kona has nine diesel trucks, a mix of F350 and F450 models. Typical mileage is 50,000 miles per year and they trade trucks every year or every other year. "Our trucks look sharp," Clark said. "We have them wrapped and every truck has a tonneau cover. Our transits, levels and other tools go under the cover, but everything else goes into a dump trailer. The trailers impose a fuel penalty, but by not tearing up the beds we retain higher residual value and to us that's a big consideration."
Will clients bear the cost?
Greener Lawn Care will likely raise prices 3 percent to 4 percent in 2007 to try to cover its increased fuel cost, but that comes with a risk, Craig Martin concedes. "Landscaping is a luxury, especially for our residential customers" he says. "It's not groceries. It's not the mortgage. It can be stripped out of the household budget if need be. The good news is that most of these customers have a little more net worth than the average homeowner so they aren't terribly price-sensitive. Still, we have to be in line with competitors' pricing and with customers' expectations and perceptions of value."
Martin thinks the good news is that fuel pricing is pretty much universal, and no one gets an unfair advantage. "Everybody's paying essentially the same price for their fuel. It's a level playing field. "We're all in this together."