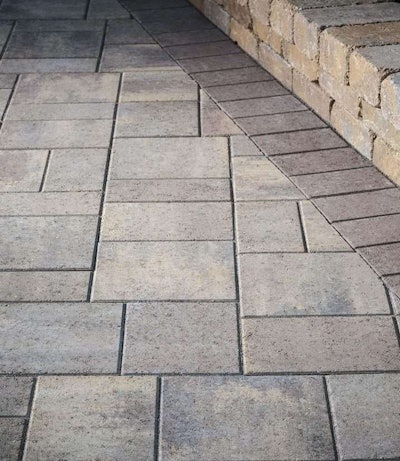 Whether your clients prefer brick, stone, tile or concrete-paver patios, a growing number of them are likely to select a neutral earth tone for the color.
Renee Lawson, marketing manager for Pine Hall Brick, says there's been a surge in demand for patio pavers in brown and gray shades as opposed to reds, pinks and oranges. "There are more earth tones in a lot of the styles than there has been in the past," she notes.
It's a trend reported again and again. Ryan Smith, production manager for Maffei Landscape Contractors in Mashpee, Massachusetts, says concrete pavers in a color family called Vineyard Blend are popular with the firm's clients. "It is a tumbled paver that has light, earthy tones and seems to be soothing to the eye," he says.
Porphyry, an exceptionally durable volcanic rock available in "attractive earth tones," is in favor as a patio stone in Europe and is starting to take hold in the United States, says Mark Fernandes, chairman of the Natural Stone Council.
Meanwhile, stone and porcelain tiles in warm, natural colors such as light walnuts, ivories, beiges and browns are some of the most sought-after exterior products for manufacturer Daltile, says marketing director Lori Kirk-Rolley. These tiles have a lot of color variation and an antique feel that creates an Old World look – one of the two major style trends she's seeing.
The other is a contemporary look with fewer character marks, less veining and more dramatic, monochromatic hues, often achieved with engineered stone or porcelain tiles.
Four years ago, Old World style was the sole trend in patios, she adds. And even though the popularity of contemporary design has stolen some of its thunder, Kirk-Rolley thinks the market will swing back toward the Old World, stone appearance in the next couple of years. "It's just a classic, timeless look," she says, that's versatile enough to work with a host of decorating themes, from rustic to French country.
More complex designs
Three years ago, a property owner might say to a contractor, "Tell me what to do," Kirk-Rolley says. Now television shows and magazines are impacting what they ask of contractors, she notes. "Customers are now more likely to discuss various patterns and mixing colors and textures with you."
Mosaics and medallions are becoming popular as inlays for stone patios, Fernandes says. "Technology is enabling us to do more intricate designs outdoors like a star burst or a sun dial in stone," he says. "We are also seeing a blending of finishes." For example, stone in its natural cleft might be installed in a checkerboard pattern with the same stone in a sandblasted finish. Or you might build the field of the patio using one type of stone and the edging using another.
When Maffei Landscape Contractors builds stone patios, the company typically uses tumbled or iridescent bluestone cut into regular shapes and installed in a random pattern, Smith says. "It goes together like a puzzle and it takes a little extra work to cut and shape the stones before installing them, but is beautiful." With its concrete paver patios, the company favors an "I" pattern that uses four 6-by-9-inch pavers.
Hank Bruns, owner of landscape architectural firm Horti-Coastal Group in Fort Walton Beach, Florida, says modular, 4-by-8-inch concrete pavers are the product of choice for his clients, and traditional herring bone and running bond patterns are the most popular.
In addition to a main patio adjacent to clients' homes, Bruns says his company often builds a more intimate seating area away from the house, by a fountain or in a grove of trees.
Over the next few years, people will begin referring to the patio in high design terms, such as "terrace," Fernandes predicts. "The terminology is changing to reflect the stature and importance of outdoor living spaces," he says. "Patios – or terraces – now add 'curb appeal' to the back of the home."
---
Present your ideas with software
A number of software programs now allow you to photograph your clients' properties and show them, in a matter of minutes, how their yards would look with different patio options.
Some of these programs are product specific and are usually available free from manufacturers. Others allow you to place any type of hardscaping material. Three-dimensional, animated programs even allow your clients to move through a proposed landscape design.
Software like this has been around awhile, but now there are more options and it's become cost effective, says Hank Bruns, owner of Horti-Coastal Group. "It is the best communication tool that we've found," he says. "Most people have trouble reading a blueprint. Most people have never seen their property from 1,500 feet. But they do know what it's like to pull into their driveway."