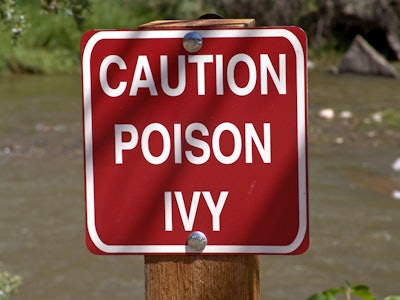 Landscaping is an inherently risky business. Your crews are working with potentially dangerous machinery, lifting heavy materials, and maybe even climbing trees or cutting limbs. There's also a risk that comes from Mother Nature herself—including possible exposure to poisonous plants. Plants like Poison Ivy, Poison Oak, and Poison Sumac can cause uncomfortable and potentially even dangerous allergic reactions.
Keeping your crews safe will mean taking preventative action.
Evan Selby of Nature's Mulch and Landscape Supply in Louisville, Kentucky knows how dangerous these plants can be to landscapers. As a supplier, he regularly works with landscape professionals who are out in the field and dealing with these threats. He shares some of his best tips for educating crews and staying safe.
Dress appropriately
Your crews' best defense against poisonous plants is what they're wearing. If crews are on a job site where they're likely to come into contact with these plants, it's ideal for them to be wearing long sleeves, pants, gloves, and work boots. Minimizing skin exposure will in turn minimize risk.
Selby says a neck gaiter can also help protect the neck and lower part of the face.
"There are also barrier skin creams that can help provide some protection," Selby continues. "Some of the landscape pros that we work with tell us they keep these on hand for the crews."
Educate the crews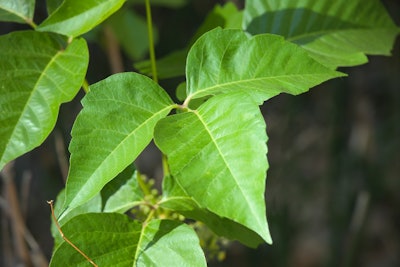 Another way to help prevent contact with poisonous plants is to ensure that your crews are well-educated on what they might see in the field. You can make education on these plants part of your morning huddles or safety talks.
"It helps to have pictures so that crews can actually see what these plants look like ahead of time," Selby adds. "Most people are familiar with the saying, 'leaves of three let it be,' and that can be helpful for identifying Poison Ivy and Poison Oak. But Poison Sumac typically comes in clusters of seven leaves or more—and it can vary."
Therefore, Selby says it's more helpful to have photos during a safety talk or better yet, make something the crews can stick in their pocket and take with them.
Take poisonous plant exposures seriously
Even if your crews are well-educated on poisonous plants, contact may still occur. It's important that crews are educated on how to respond.
According to The National Institute for Occupational Safety and Health, a division of the Centers for Disease Control (CDC), it is the urushiol oil in these plants that causes a reaction. It is released when the leaf or other plant parts are bruised, damaged, or burned. When the oil touches the skin, it causes an allergic reaction.
"A skin reaction may be able to be addressed with urushiol oil cleaning wipes which help to remove the oil from the skin," Selby explains. "This can be part of your First Aid kit."
Wet compresses and antihistamines may also be needed to address symptoms. But if there's any indication that the reaction is severe, your crews should be educated that seeking prompt medical attention is key.
It's also worth noting that poisonous plants should never be burned. This creates allergens that can be inhaled and can become a life-threatening emergency if the lungs are affected.
"It always helps to make sure your safety talks include information on how to handle emergencies," Selby says. "While the goal is always to prevent these things from happening, how they respond in an emergency can sometimes be a matter of life or death, so it has to be taken seriously."