Grassperson
Water is a precious commodity and can be very expensive. For that reason, your clients are likely interested in ways that they can save water.
Here in North Texas, we know the pain that wasted water can cause. It's a drain on our wallets! So, we are always looking at ways that we can save our clients water (which in turn, saves them money).
Here are a few of the tips we share with clients.
Water in the early morning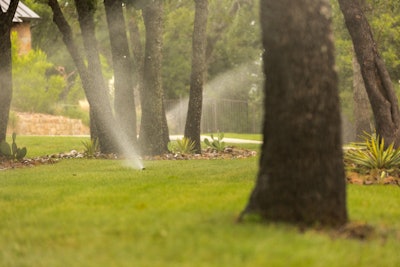 We always advise that clients water their lawns in the early morning. Watering in the morning gives the soil enough time to soak in the water before it evaporates. It's not just the sun but also the wind that contributes to evaporation (but wind velocity tends to be slower in the morning). This will allow maximum water to reach the root zone.
It's also important that clients know they need to avoid watering at night as this can contribute to lawn fungal problems. When water sits on the lawn overnight it creates a potential breeding ground.
Implement smart control technology
Most clients here in North Texas have already invested in an irrigation system. It's practically a must-have for people who really care about lawns in our climate. But not everyone has upgraded to a smart irrigation system. Unlike traditional irrigation which just operates on a preset schedule, smart irrigation makes real-time adjustments based on the actual weather conditions.
This is vital when it comes to saving money. After all, there's nothing like sending money down the drain by irrigating during a rainstorm!
In recent years, we have watched the capabilities of smart irrigation technology explode. Many systems now use data from local weather stations to make adjustments to the watering schedule. There are also rain and freeze sensors that will indicate exactly what's happening in the moment.
Invest in irrigation inspections
As a company that offers irrigation inspections, we also talk to our clients about the value of having their system regularly maintained. A thorough inspection will look for leaks or whether anything is broken or malfunctioning. Something as simple as a sprinkler head knocked out of line by a mower can be wasting water. During an inspection, we will check the spray heads and the rotors above the ground. We also look at the lateral lines and main lines to make sure water pressure is sufficient.
Sometimes an underground leak goes unnoticed if it's not significant. But it can be enough to waste water and money!
Helping keep money in our clients' pockets
Helping our clients make smart watering decisions helps them to save money. Wasted water can be costly, and frustrating, and clients will see a lot of value in a company that can help them make better choices. At the end of the day, we want clients to have a lawn and landscape that they love and we know water is an essential part of that equation. But we certainly don't want any of it to go to waste!