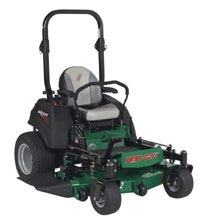 New to the BOB-CAT ProCat line of premium mid-sized commercial riding mowers, are two commercial models with key features in a package that offers exceptional performance and value to landscape contractors, homeowners, and institutional customers.
The new BOB-CAT ProCat SE features an open frame design for enhanced visibility, a low seat platform for an enhanced center of gravity, an extreme discharge system with DuraDeck™ and expanded discharge chute for a superior cut and better clipping dispersal without clumping, and new motion control design that eliminates lost linkage motion for smooth and responsive operation.
Comfort is standard on the new ProCat SE through a premium high back seat that adjusts to fit the rider and a custom operator zone with controls that can also easily adjust to rider preference for a comfortable ride that provides maximum control with minimal effort.
The ProCat SE maximizes productivity with choice of 52- or 61-inch deck, hard working and clean running Kohler Command Pro engines with canister style air filters, and an EPA-compliant fuel system with 14-gallon fuel capacity that offers ground speeds up to 11.5 mph and fewer refueling stops to keep you moving forward.
The new BOB-CAT ProCat SE provides the core performance features that professional users expect in a full-on commercial mower at a standard model price point.
Features of the BOB-CAT ProCat SE:
Models: 942520H w/52" Deck, Kohler Command Pro CV680, 674cc
        942521H w/61" Deck, Kohler Command Pro CV740, 725cc
Custom Operator Zone 
Elastomeric fabric seat suspension to isolate vibration and absorb shock
Adjustable armrests comfortably fit every operator
Lower operator position to provide a more stable center of gravity, improved traction and better balance
On-the-fly tracking to allow fine-tuning for easy straight line operation
One-hand height selector offering fingertip control
Improved, intuitive controls
Spacious design for maximum comfort
Adjustable seat, levers and on-the-fly tracking
Four position hydraulic dampeners that adjust to provide a smooth, responsive feel
Foot lift-pedal adjusts deck quickly for uninterrupted cutting
Ergonomically designed easy-access operator controls
Larger control levers and thicker grips to lessen vibration and reduce fatigue
Control levers eliminate lost linkage motion for smoother operation, less wheel marking and spin
Enhanced Discharge Design with DuraDeck™
Deck openings up to 30 percent wider for smooth, more even dispersal of clippings
Innovative chute design that controls airflow to improve clipping dispersal and help prevent clumping
Up to seven adjustable anti-scalp rollers to prevent scalping and damage to turf at all corners, front and rear center
Resilient molded rubber chute to resist hard knocks
Adjustable cutting range from 1 to 5½ inches in quarter-inch increments
Easy Maintenance Access
Quick access to belts, filter, battery and hydraulic reservoir
Single-belt deck drive and improved electric clutch
Sealed, maintenance-free bearings on deck spindles
Easily fine-tune deck cut height
Tool-free drain valve
Forward tilting seat for easy maintenance access
Peak Productivity
12cc Hydro-Gear™ pumps generate ground speeds up to 11.5 mph
Choice of 52, 61-inch deck size for maximum cutting coverage
Larger, 14 gallon fuel tank means fewer stops for refueling
Redesigned frame for better operator visibility
Simple, one-hand height selector offering fingertip control
Peace of Mind Warranties
Your choice of a 2-year / 2,000 hour warranty or a 5-year / 500 hour warranty for commercial or residential use
Lifetime Warranty on the deck, deck cradle, and engine deck
Backed by a 2-year commercial limited warranty
Specifications:
Blades –
3-18" High Lift Offset .250" thick
Blade Tip Speed:      52" Deck, 18,404 fpm @ 3600 rpm
61" Deck, 18,854 fpm @ 3500 rpm
Deck –
Design: DuraDeck™ side discharge w/ molded rubber chute – Fabricated dual layer 10-gauge top
Discharge: Oversize molded rubber chute controls airflow to improve clipping dispersal
Deck Skirts: 7-gauge Skirts
Anti-Scalp Rollers: Up to seven (7) adjustable anti-scalp rollers on front and rear
Spindle Type: Maintenance Free with 1″ Shaft
Bearings: Double-sealed, precision ground ball bearings
Cutting Height: 1 inch – 5.5 inches in ¼ inch increments
Lift Type: Manual foot lift with spring assist / easy to position (Right or Left) Lift Foot Pedal
Drive: Warner Mag Stop 225 ft. lb. electric clutch
Drive –
Ground Speed: 11.5 mph
Pump Size: 12cc
Transmission: Hydro-Gear™ Variable Displacement Pumps, Hydraulic Oil Cooler, Parker Wheel Motors
Tires –
ProCat SE 52" Deck: 23 x 10.5–12, 4-ply
ProCat SE 61" Deck: 24 x 12-12, 4-ply
Parking Brake: Drum
Fuel –
Capacity: 14 Gallons
Hour Meter: Digital with Service Minder for engine oil and filter, air filter, and hydraulic oil and filter
Size –
Unit Length: 82″
Unit Height: 49″
Weight:       52" – 1256 lbs.
61" – 1293 lbs.
Seat –
Premium High Back with extra thick foam and elastomeric sling for a smooth ride, Fore and Aft Adjusters, Quick Adjust Armrests
Accessories –
Magnetic Light Kit, Striping Kit, Mulching Kit, Vacuum Collection System, ZT Hitches, ROPS, Knobby Tires and Wide Track Kit
To learn more about the ProCat SE, visit www.bobcatturf.com or contact BOB-CAT toll-free at 866-469-1242.
About BOB-CAT
Since the 1960's, professional landscapers have relied upon the quality cut produced by BOB-CAT brand mowers to maintain golf courses, schools, parks and recreation areas, cemeteries, and landscapes big and small. BOB-CAT offers a full line of commercial walk-behind and zero-turn radius ride-on mowers for commercial and residential use. BOB-CAT mowers are available through power equipment dealers nationwide. To learn more about BOB-CAT products and locate a BOB-CAT dealer in your area, visit the BOB-CAT website at www.bobcatturf.com.
BOB-CAT is a registered trademark of Schiller Grounds Care, Inc. Use of the name BOB-CAT in print must be all capital letters with a hyphen between the words "BOB" and "CAT" as used within this media release.
About Schiller Grounds Care, Inc.
Schiller Grounds Care creates and brings to market a broad variety of landscaping, gardening and turf care equipment for residential and commercial use under the brand names of BOB-CAT, Bunton, Classen, Little Wonder, Mantis, Ryan and Steiner. To learn more about Schiller Grounds Care and its various brands of power equipment, visit www.schillergc.com.