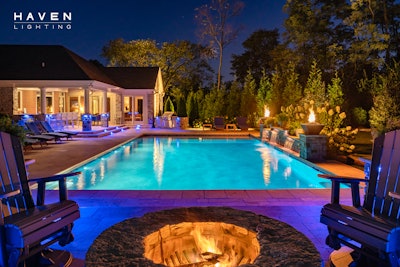 Photo: Haven Lighting
Homeowners are growing increasingly accustomed to controlling their homes with their phone. Home alarm systems, thermostats and many personal assistant devices are driving demand for more devices that are "app enabled."
According to Statista, "Household penetration will be 40 percent in 2021 and is expected to hit 57.2 percent by 2025." Landscape lighting is no exception when it comes to this trend of phone-controlled home automation devices.
The growth of customers who are expecting their landscape lighting to be controlled by their phone has increased dramatically in the last couple years. They are more accustomed to scheduling automated events on their phone than they ever have been before.
This is good news for professional landscapers because for most of these customers, phone-controlled and scheduled landscape lighting is not their first automated device. This makes the setup and training of homeowners easier than ever. If your customers are requesting landscape lighting systems that are easy to control, WiFi transformers could be the solution they need. These transformers turn any home landscape lighting into smart, wireless systems.
The difference between a standard landscape lighting system and a smart system

Historically, landscape lighting transformers were controlled by timers and/or light sensors. These devices gave the homeowner the ability to turn lights on at sunset and off at sunrise (or any time the customer requested).
A downfall of these earlier systems was that some timers were not battery backed, and any loss in power would cause the time to be incorrect. These basic timers also did not have the ability to adjust for daylight savings, causing the owner to have to adjust the time a minimum of twice a year in most locations.
In more recent times, astronomical timers were available. These timers used location to determine the proper sunset and sunrise times. While eliminating the need for light sensors, this increase in functionality also came with a more complex setup all having to be accomplished with a multitude of buttons on the timer.
In today's market, WiFi landscape lighting transformers have eliminated the need for physical timers and light sensors. At the same time, these devices have reduced the need for a user manual, as they have made setup and modifications simple and intuitive, which makes the installer and homeowner's life much easier.
Along with this benefit, WiFi lighting transformers have given homeowners a flexibility they have never had before – they are now able to manually control the lights outside of their set schedule.
Benefits of installing a landscape lighting WiFi transformer

From offering scheduling capabilities, multiple zones and timely support, WiFi transformers make home lighting management simple.
1. WiFi transformers allow for scheduling lights
Cloud-based WiFi landscape lighting transformers give customers the benefit of being able to set schedules and control the lights when they are not home.
As long as they have internet access, customers can manage lights with these Cloud-based WiFi lighting transformers. When using a Cloud-based system, there are two types of transformers on the market. The first executes its schedule based on signals from the Cloud server where commands are housed.
The second, and more practical, system houses the schedule in two places – in the Cloud and on the transformer. The benefit of this infrastructure design is that the schedule is executed even when the landscape lighting transformer is not connected to the internet (i.e. when the WiFi network is down for a period).
2. WiFi transformers have multiple zones
Greater functionality has also come with the digital age of WiFi landscape lighting transformers. Many of them come with multiple zones. Combining them with schedules and other area zones gives customers the ultimate flexibility.

Customers use these zones to control living area lights on demand per use outside of any set schedule. While this functionality can also be available on Bluetooth landscape lighting transformers, it is not as practical, as proximity to the transformer is generally not convenient for use while entertaining.
Customers are using this added benefit to control items like bistro lights or deck lights with their phones on demand. In the eyes of customers, nothing can beat the convenience of managing lights with their phones.

3. WiFi transformers offer better support
Cloud-based WiFi landscape lighting transformers also give users the added benefit in better support. In these cases, firmware updates and troubleshooting can be accomplished remotely by the manufacturer, giving the homeowner the benefit of receiving future features that are developed.
How to select and install the right WiFi transformer

Choosing a WiFi transformer size
Sizing the WiFi lighting transformer is accomplished the same as sizing any historical landscape lighting transformer. These transformers are sized by power (Watts). Adding up all of the light power (Watts) connected to the transformer will enable you to size the transformer properly.
Many manufacturers include an overhead specification of somewhere around 20 percent. This allows for power dissipation that occurs in wiring and other areas of the system. WiFi landscape lighting transformers are sized the same way.
Connecting a WiFi transformer to the internet
How can lighting transformers be connected to the internet? Generally, the preferred method for a WiFi landscape lighting transformer to connect to a WiFi network is a direct connection.
However, some units on the market require a "bridge," an intermediary device required for connection to the WiFi network. Bridges are used to "translate" communication from WiFi networks into a communication "language" used by the transformer.
Because WiFi landscape lighting transformers generally connect to a customer's WiFi network, it is important that the transformer is mounted in an area with a strong WiFi signal.
Because of this, it is recommended that the lighting transformer be mounted first and connected to the WiFi network before the installation process is carried out further. This will assure proper connectivity before running any wire.
Transform your landscape lighting system

When selecting a transformer, it is important to understand all the features, benefits and functionalities of the system. WiFi bridges, zones and schedules are all key factors when installing a WiFi landscape lighting transformer for your customer's needs.
Transforming a current lighting system into a wireless system is made possible with the flexibility of a lighting transformer. By implementing a transformer for their landscape lighting, customers will be one step closer to enjoying the benefits of a smart home.
EDITOR'S NOTE: This article was written by Chris McCoy. McCoy is the founder of Haven Lighting, a leading manufacturer of smart WiFi enabled landscape lighting systems.