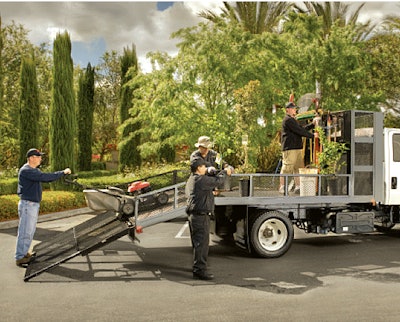 Properly securing cargo during every trip and driving responsibly will reduce accident risks and protect your job.
The accident: Realizing they'll be driving only a mile between jobsites, two landscaping workers decide not to secure the zero-turn mower, push mower and assortment of handheld equipment to the trailer they are pulling behind a company truck. The only traffic light on the route between the two properties is green, but as they near the intersection, the passenger notices a vehicle approaching from the right is not slowing. He alerts the driver, who slams on the brakes. The trailer jackknifes, and the riding lawnmower flies from the trailer, landing on the other vehicle and severely injuring two occupants. A line trimmer crashes through the window of a third vehicle, which was stopped at the intersection, and the driver suffers cuts and bruises.
The bottom line: Not securing items during short trips is one of the most common mistakes landscaping crews make when transporting equipment, says Rick Cuddihe, president of Lafayette Consulting and Lafayette Property Maintenance. "In their haste to get to the next job, they just put the parking brake on large equipment and put handheld equipment on the floor of the trailer," he says.
To further reduce accident risks:
• Use chains or straps with ratchet load binders to secure large equipment and follow your company's cargo-securement training/policy.
• Properly balance the load since an unbalanced one can cause the trailer to sway and potentially result in a traffic accident.
• Don't overload the trailer or pickup bed.
• Plan your work so you don't have to refuel equipment while it's on a trailer or carry fuel cans with you. If you do fuel equipment while you're transporting it, don't stretch the hose across other equipment and ensure all machines are cool.
• You can secure loose fuel cans with bungee cords.
• If you will be driving a vehicle, inspect the way equipment, materials and plants are tied down before getting behind the wheel.
• Stop gradually to prevent the load from shifting or the trailer from jackknifing.
• When changing lanes, use turn signals and ensure there's plenty of distance between the truck/trailer and other vehicles.
• Don't accelerate quickly or exceed the speed limit.
EDITOR'S NOTE: This article was written by Olivia Grider.