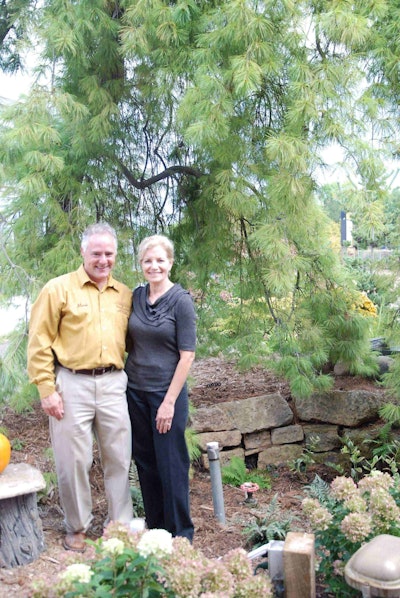 Whether he is calling on potential clients, building his company, or pursuing his bride to be, Mark Halla is a man of conviction. When Mark first met Kay, she had just earned a degree in landscape architecture from Iowa State University and moved to the Minneapolis area to work at Halla Nursery, a company owned by Mark's father and started by his grandparents in 1942.
Mark was working there also – the third generation of Hallas. In the beginning, Kay turned down Mark's requests for a date, but eventually his persistence won her over and the two were married in 1986.
Leap of faith
After a brief stint in Baltimore the two moved back to Minnesota and Mark headed up the landscaping operation at Halla Nursery for 14 years.
"Although I was president, I didn't have full control," Mark says. "I felt like I needed to honor my Dad's authority, not only as my father, but also as my CEO. Yet I was struggling with aligning my business practices with my faith. On October 24, 2003, my 38th birthday, I made one of the biggest decisions of my life and decided to leave Halla Nursery. On Nov. 19, 2003, I incorporated The Mustard Seed and began a new chapter of life." Mark and Kay had humble beginnings, working out of a corner of their basement.
"We didn't even own a car," Kay recalls. "On the positive side, we didn't have a lot of overhead. We were all out on the crew working. You do what you have to – when you have to do it – to survive." Although cash-poor, the Hallas used their good credit to purchase $300,000 in equipment to begin their business, starting out with a 21/2-ton truck, a trailer, a skid steer and a utility vehicle. Several former Halla's employees approached Mark and Kay asking to follow the couple in their new venture. "It was really humbling," Mark says, "because we were basically saying 'OK, we can offer you a 20-percent pay cut, work you a lot harder, and offer you no benefits and no security whatsoever,' and they came anyway."
After a difficult search for a nursery property, Mark finally stumbled upon a 30-acre parcel with rolling hills, a pond and a 1880s farmhouse. There was only one small problem – it was not for sale. Approaching the situation with his usual good-natured persistence and faith, it wasn't long before Mark's prayers were answered and they bought the property. They renovated the old farmhouse and made it their residence, then graded the land beside it and constructed a facility styled after the vernacular pole barns that dot the landscape.
Establishing relationships
Mark is a master at striking up mutually beneficial relationships. He believes it was divine intervention when he needed to drill a well but did not have the capital for the $60,000 price tag. The answer came knocking on his door, when a representative from the local water department asked to drill a test well. They let the Hallas keep the well in exchange for consent to the drilling operation. Mark also worked a deal with a concrete company to pave inside and around The Mustard Seed at cost, using various dyes and stamp patterns. In turn, the Hallas agreed to let the company use their shop as a showroom. Mark and Kay view those paving shoppers as potential customers. Behind the greenhouses and nursery stocked with trees, shrubs, perennials and annuals, a play structure company installed demonstration equipment and the Hallas maintain a petting zoo with chickens, donkeys and pygmy goats on loan from local farmers.
"It doesn't hurt to have an area where the kids can be entertained and the parents can do some shopping uninterrupted," Mark says. Inside, the 5,440-square-foot facility is a well-stocked garden shop with gifts, soil amendments, pond accessories, and other garden supplies. The 2,220 square-foot loft area above the shop is office space for Mark, Kay, and their designers and managers.
Kay, a registered landscape architect, concentrates on The Mustard Seed's design department and stays busy with their daughter Erin, 11, and son Logan, 19. Mark says maintaining good relations is his most important task, and that can be as simple as writing thank-you notes. He and all employees write at least one thank-you note to a customer each day.
"There are days when business is just hard," Mark says. "I find that I just have a different attitude when I'm writing thank-you notes than when I'm whining."
Because part of the Hallas' mission is to remain good stewards of the environment, they use the pond on their property as a source of geothermal heat for their nursery and irrigation. The Hallas definitely practice what they preach. Mark carries a business card that does not list himself as owner or manager. His title is "steward."
"I want to do everything I can to remind myself to be humble," Mark says. "I believe that this business is a lot less about landscaping and gardening and much more about what we can do to help others."