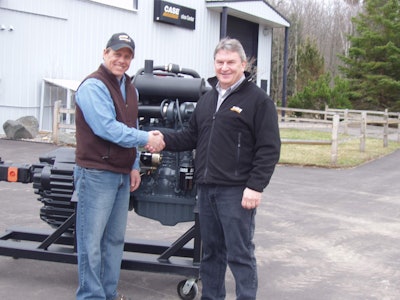 Case Construction Equipment donated a diesel engine, transmission and hydraulic pump display from a Case backhoe to the Northeast Wisconsin Technical College's diesel and heavy equipment technician program. Students will use the display as instruction aids.
Case had been using the equipment at its Tomahawk Customer Center in Tomahawk, Wisconsin, but donated it to the Sturgeon Bay college after students visited Tomahawk with their instructor, Jon Sowl.
"Students have the opportunity to operate equipment and receive training covering Case equipment history, machine features and technology," Sowl says. "Russ Wadzinski, the general manager at Tomahawk, asked us if we had a need in our program for the 580SM components display that they've been using in their dealer and customer training programs."
The diesel and heavy equipment technician program is one of seven such programs in the Wisconsin tech school system, and the only one in the state to be accredited by the Associated Equipment Dealers. NWTC's diesel program includes instruction covering agriculture, on-highway and construction machinery and diesel engine maintenance. Upon completion of the two-year program, students receive either an associate's degree or a technical diploma.
For more information, visit casece.com.