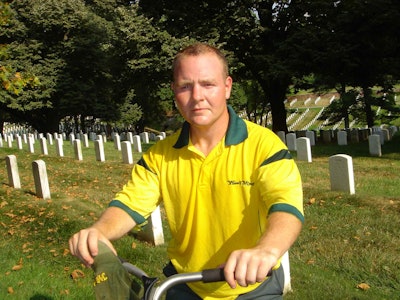 Jeff McCorry is one of nearly 450 landscape professionals, sweat-drenched and hard at work early in the morning, July 25, as part of PLANET's annual "Remembrance and Renewal" volunteer effort at Arlington National Cemetery.
But for McCorry, owner of a Weed Man franchise in New Jersey, the experience holds deep significance.
He recently left the Army as a corporal with the 5th Group, Special Operations, after serving five deployments in Iraq and Afghanistan and one in Egypt.
"It's humbling to be working the grounds where so many people rest who gave their lives for this country," he says.
"You look out among the rows… I don't know how to describe the feeling, really. It gives me greater respect for all the sacrifices that have been made for us.
"I'm glad to be able to make a little bit of a difference and a contribution here."
McCorry joined landscape and lawn care professionals from across the nation who brought their crews to Arlington to spend the day mulching, upgrading sprinklers, cabling and installing lightening protection for trees, pruning, liming more than 200 acres, planting, and aerating the soil. This gift is valued at more than $200,000 in products and services.
PLANET, the Professional Landcare Network, partnered with the Irrigation Association and the Tree Care Industry Association and supporting the event at the Platinum level was Syngenta. For more information, visit LandcareNetwork.org, or call the PLANET office at (800) 395-2522.