Anthony Gastol's approach to business focuses on people and a go-slow approach to expansion that's put him in front of his competition.
Among the factors that made Anthony Gastol a successful business owner and a 2012 TLC Landscaper of the Year Finalist are his techniques for retaining quality employees in a competitive market, as well as his ability to capitalize on the needs of customers living in a challenging climate.
Committed to his employees and customers, Gastol started APM Landscape and Design in Schertz, Texas, in 1999. The 13-year-old company, which offers design/build, landscape lighting, water features and irrigation services, has grown to gross just under $900,000, but Gastol's simple philosophy has stayed the same: "Do good work, and treat people right."
Family friendly
Whether you are an old friend, longtime customer or just meeting Gastol for the first time, his laid-back personality immediately puts you at ease. He knows everyone by his or her first name, and he shows sincere interest in their families and hobbies. His friendly, easy demeanor coupled with his ability to get the job done correctly, on time and within budget, resonates with clients.
For example, when their original contractor stopped answering his phone, Jean and Paul Lewis called APM after hearing about the company from a friend. Their project included new soil and plantings, lighting installation and irrigation. Their original contractor offered big promises and a low price, but sometimes, you get what you pay for, Gastol says.
"Our philosophy in business is that slow and steady wins the race."
"APM worked at our house for almost five weeks. By the time they completed the project, we were buying them lunch," Jean says. "We recommend them to our friends, and would never use anyone else for our outdoor projects. Anthony and his team are a group of great guys. They looked over our project like it was their own house."
While he treats clients like friends, Gastol cares for his seven employees like family, offering tuition reimbursement no matter the major, paid holidays and vacations and flexible work schedules.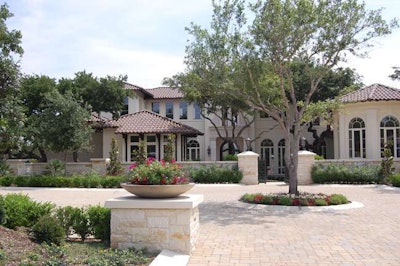 "One challenge I've faced is keeping good employees," he says. "There is a lot of competition out there. If you have an employee who is really great at his job, you have to do what you can to keep him."
Gastol's employees appreciate his commitment to family. "Other places have offered me more money, but I would never leave Anthony. He is all about family," says crew member Henry Martinez, who has been with the company for more than three years. Martinez notes he is allowed to take off work to take his daughter to the doctor or for other family needs.
"I understand this is just a job," Gastol says. "Family is more important than any job. I enjoy watching my kids play sports and dance, so I want my employees to be able to do that as well."
Gastol and his wife Cristina have two small children: Madison, 5, and Tanner, 2. Gastol has coached Madison's baseball and soccer teams, and the family is involved with their church. "He does a wonderful job of balancing work and family," says Cristina, who manages APM's scheduling, invoicing and payroll. "Anthony will wait until after the kids go to bed to work on plans so he can spend time with me and the kids."
Anthony's father, Pete, who retired from the Air Force, also works at APM. Gastol says his father is the hardest worker on the team, and the other crew members look up to him. "I owe a lot of my success to him because he has taught me about hard work, perseverance and getting the job done," Gastol says.
However, the father and son team try to stick to a firm rule of not talking shop while at family gatherings. "We really have to put work aside and focus on family time," he says.
Adapting ideas
While studying business administration at Wayland Baptist University, Gastol went to work for a friend's landscaping company. It was there he realized he wanted to run his own landscape business one day.
"I have never been someone who likes to be stuck inside an office, and I am somewhat creative," he says. "We start a new installation with a blank canvas and a pile of dirt. Knowing we turned that dirt into something beautiful for our customers to enjoy with their families … that's a great feeling."
The hands-on experience he gained there, coupled with the skills he acquired studying business at the university, gave him the experience and confidence to start APM Landscape and Design while working toward his degree. "I learned a lot from many of my professors who had been in business themselves, my marketing professor, in particular," he says.
Gastol's marketing initiatives have included using billboards and direct mailers, participating in local home shows, passing out door hangers, partnering with deck companies, offering referral bonuses and pasting stickers with his logo and phone number to the controllers of irrigation systems he has installed.
Slow and steady
Gastol says his biggest challenge has been surviving the ups and downs of the economy.
"When it's booming, our first instinct is to start hiring, buying trucks and equipment, but we don't want to grow too big, too fast. It's a balancing act," he says. "I think that is why a lot of landscaping companies fail.
"When you grow too quickly and invest a lot of money into expensive equipment and vehicles, you will begin to fall when the economy starts to get bad," he says.
Gastol rents most of his equipment to avoid high maintenance costs and the cost of insuring, storing and transporting machinery. The majority of APM's clients are high-end residential homes throughout the San Antonio and Austin areas and are acquired through word-of-mouth and repeat business.
Gastol and several of his staff members are also licensed irrigation technicians, a requirement in Texas for those doing irrigation installation work. About a third of Gastol's business is irrigation, a huge money-maker in South Texas, noted for its hot and arid climate. They provide a range of services from small repairs to new installations, including drip irrigation and two-wire systems.
"Being in the landscape industry in Texas, irrigation is a huge part of installing a new landscape," Gastol says. "Instead of having to sub out the irrigation, we chose to become licensed irrigators so we could do the whole project from beginning to end."
He says he's charged with repairing projects that other contractors have botched.
"Our philosophy in business is that slow and steady wins the race," Gastol says. "We may not be the biggest company out there, or have the cheapest prices, but we're committed to our customers and we stand behind our work."