The first two winners for the 2013 gardening season for the The All-America Selections (AAS) have been chosen:
Echinacea 'Cheyenne Spirit'
 AAS Flower Award Winner
This first-year flowering echinacea produces a delightful mix of flower colors from rich purple, pink, red and orange tones to lighter yellows, creams and white that echo the motif of the North American plains.
'Cheyenne Spirit' does not require a lot of water and offers a wide-range of uses from the perennial border, in a mass landscape planting, in a butterfly garden or as a cut flower.
It can be used by the professional grower as either a first year flowering perennial in their annual program, or by the traditional perennial grower who sows in the fall for over-winter production.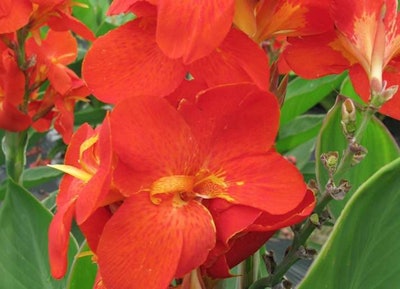 Canna 'South Pacific Scarlet' F1
AAS Flower Award Winner
'South Pacific' adds a touch of the tropics to the garden with showy, 4" scarlet flowers that bloom all summer long.
AAS Judges raved about this first F1 hybrid canna from seed because it is such a robust and floriferous bloomer.
'South Pacific' grows up to 24″ tall in a 2-gallon container, 4-5′ tall in the garden, providing a great grouping of specimen plants or a back-of-the-border focal point.
Commercial growers will benefit from the F1 vigor and the six or seven flower laden branches it produces.
Tender perennial in zones 7-10
These newest AAS Winners are available for immediate sale. Commercial growers should inquire with their favorite seed supplier.
For more: aaswinners.com