Adding this service to your business is simple and profitable.
If you provide lawn maintenance to clients, consider adding aeration to your services. It requires minimal investment for supplies and training and vastly improves the appearance of the lawns you maintain – making you and the turf look good.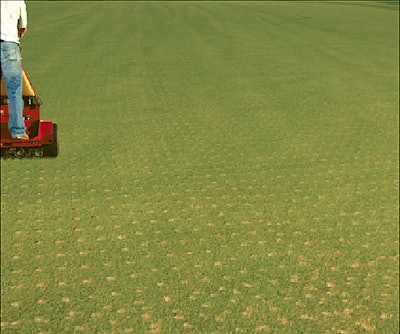 "It's the single most valuable thing you can do for a lawn beyond mowing, watering and fertilizing," says Ross Hawley, marketing manager for Toro.
Why aerate?
Aerating can signficantly improve turf, says Pierre Pereira, vice president of sales and marketing for Billy Goat. "The benefits are well known to golf courses, which commonly aerate their fairways and greens with dramatic results," Pereira says. "However, many companies and customers still haven't embraced this simple service."
Benefits for aeration include removing plugs to allow water, air and nutrients to filter into the roots of the grass resulting in healthier, stronger lawns, as well as fewer weeds and pest problems.
"It's the single most valuable thing you can do for a lawn beyond mowing, watering and fertilizing."
Loosening soil in the root zone also allows roots to penetrate deeper, which can help turf increase tolerances to drought and heat. "Stimulating the growth and hardiness of the turf helps fill in patchy areas and defend against disease, drought and weed infestation, which can dramatically increase the aesthetic appeal of the turf," says Mike Simmon, product specialist for Grasshopper.
"Healthy, attractive and well-maintained lawns improve curb-appeal, which in turn increases the professional image of the contractors maintaining these spaces," Simmon says.
Buy or rent
There is little upfront cost for this add-on service, other than buying or renting the aerator. But there are several points to consider when making this decision, such as your company's cash flow, the number of clients requesting aeration services, service frequency and whether your local equipment dealer offers rentals.
Renting doesn't require significant capital up-front, but equipment availability could hamper scheduling, and replacement costs for damaged equipment can be costly.
On the flip side, purchasing equipment requires more cash or credit up-front, but the equipment is always at your disposal, and the purchase can have tax advantages (consult a tax professional to learn more about effects of purchasing equipment).
Jon Cundiff, owner of Weedman, a Lawn Care Company, in Kansas City, Missouri, says he owns his equipment, but in the busy fall and spring months, he will often lease a couple of extra aerators to accommodate additional clients.
Equipment options
There are three types of aerators to choose from: walk-behind, pull-behind and stand-on options, ranging in price from $2,000 to $9,000. The model you choose will depend on the type of property you service.
For example, if you service multiple commercial properties or expansive residential landscapes, you should opt for the stand-on option, which is faster (about 6 to 7 mph compared to the walk-behind, which runs about 2 to 3 mph) and also saves valuable manpower. Conversely, you will want to use a smaller model to easily navigate small-gated yards.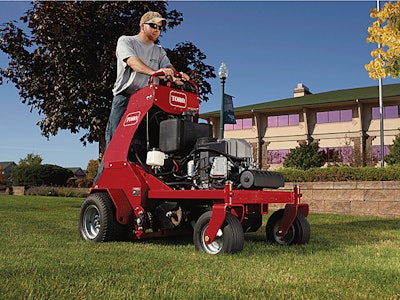 "It's as easy to operate as a lawnmower," Hawley says of an aerator. Which means you can have your staff running the equipment in a matter of hours, even if they have never used an aerator before. As with any piece of equipment, crew members should be trained on safety precautions, as well as how to operate and care for the machine properly.
Costing jobs
Estimating charges for a job varies depending on your particular situation and location. Contractors in the South, for example, may charge more because lawns are often more stressed from summer heat. The conditions of the soil also play a factor, since clay soils can be more difficult to tend.
Simmon estimates $50 per 1/2 acre, but says it depends on the number of man-hours and the size and location of the property.
Simmon estimates $50 per 1/2 acre but says it depends on the number of man-hours and the size and location of the property.
When marketing this service, make sure customers know the benefits of aeration.
"Some clients may not understand or appreciate the value aeration can provide, so education on the short- and long-term benefits is essential when selling the service," Simmon says.
"As clients see the effects on their green spaces, chances are, they will continue to invest in aeration, which can provide you with a steady revenue stream."