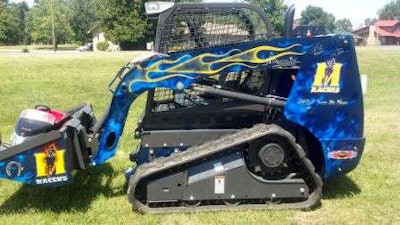 A Murray State University alum found a unique way to show his school spirit.
Contractor Dennis Smith commissioned a special paint job for his company's, Pinnacle Construction in Benton, Kentucky, new Case TR270 compact track loader. The machine displays Murray State Racers' logos on the loader frame and bucket, as well as a multi-tone blue paint trimmed in yellow flames on the lift arms. Completing the design is the inscription "Hottest Team in Town" and autographs from the school's head football and basketball coaches.
"We thought the custom paint job would be a great way to promote our close ties to Murray State," Smith says. "It has caused quite a stir on campus already, and we look forward to loaning the machine to the school for promotional use at football games and other high-profile events on campus, including fundraisers."
Pinnacle is a general contractor, focusing on the construction of commercial buildings throughout western Kentucky and northwestern Tennessee.