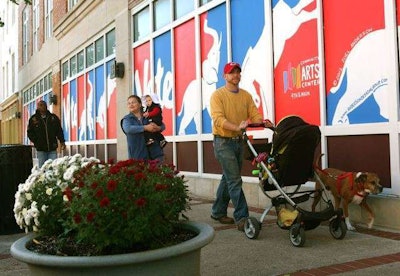 Not many landscaping crews have to labor under the cautious and watchful eye of the Secret Service. But that was the case today in Danville, Kentucky where the Vice Presidential debate is scheduled to occur.
First thing this morning, McAfee Mowing and Landscaping was quickly dousing water on many of the red, white and blue bedding plants it maintains to preserve their color after a frost blanketed them last night. McAfee contracts to handle Danville's municipal landscaping, which includes street-side plantings near Center College where the debate will be held.
Michael McAfee, the owner and one of 12 finalists for the 2013 TLC Landscaper of the Year Contest, says he welcomes the scrutiny and the many visitors in town for the debate, which puts Danville and his work on a national stage.
"The reason I love this business is being able to see peoples' faces when they are pleased with our efforts," he says.
Like the other 11 finalists, McAfee runs an impressive operation that precisely fits the needs of its market. The business will gross nearly $1 million this year, primarily from commercial accounts.
"Danville is a rural area," McAfee says, "so to succeed I branched out from residential to commercial work and we are growing slowly but steadily.
McAfee, 28, is a savvy, seasoned and well-educated landscaping pro. And the process of learning more about his business and seeing his projects made for a great day… even though we occasionally had to detour around temporary security barricades.
More to come in the weeks ahead as we criss-cross the country interviewing this year's finalists. Lean more about the Landscaper of the Year contest sponsored by CASE Construction at totallandscapecare.com\landscaper-of-the-year