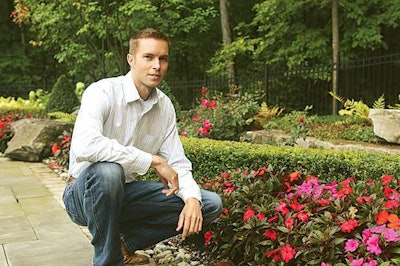 Ryan Youngblood sets high standards for design/ build and estate-maintenance projects that clients appreciate.
Serving a roster of high-end residential landscaping clients is a tightrope walk.
A good example, says Ryan Youngblood, are the owners of a multi-million-dollar, 6-acre, residential property he has maintained for three years.
"The owner may come home one day and call with a request to change all of the white plantings to red," says Youngblood, owner of R. Youngblood & Co. (formerly Artistic Landscape Associates) in Rochester, Michigan. "That might be $10,000 worth of plants, and the expectation is that it will be done immediately."
This same property has outdoor spaces maintained by Youngblood that allow the owners something akin to "flipping the dial on a radio," he says. "There is always somewhere you can go sit that will fit your mood."
Examples include a formal courtyard rose garden that offers a dramatic sight line from the valet drop-off point, a white garden (all white blooms with each season), a sunken secret Japanese garden adjacent one of the home's bathrooms and an expansive view from the home's rear balconies of a grassy slope lined with sprawling birch trees leading down to a river bank.
By exceeding the expectations of such demanding clients, 2012 TLC Landscaper of the Year Finalist Youngblood, 32, has created a niche with upscale clients in southeastern Michigan that's leveraged his business to an annual gross of $1 to $1.5 million.
Design/build projects account for 80 percent of the income, and the balance comes from estate garden maintenance.
Passion strikes early
Youngblood started in landscaping his junior year in high school when he says he "began to etch out a vision of developing a company, and I took it very seriously. I was continually engaged in developing my business plan."
While pursuing his associate degree in landscape horticulture at Oakland College, Michigan, he borrowed $6,000 from his grandmother to buy his first piece of equipment and paid it off in eight months. He also shifted the focus of his studies to landscape design.
With college complete, he ventured into offering landscape design/build packages, often calling on subcontractors to develop the best team. He began winning more ambitious and big-budget projects when he located his office in the wealthy area of Rochester and hired Kurt Schaus as principal designer in 2005.
"It's our passion for the details that sets us apart."
"Kurt is a Type B personality that balances my Type A," Youngblood says. "He's a great designer who knows how projects are actually built." When Youngblood and Schaus collaborate in the company's design studio, the process gathers great synergy.
Schaus began his landscape career with odd jobs while in a Michigan high school, as did Youngblood, and earned an associate degree in landscape and horticultural management. He worked as a laborer, foreman and in masonry sales before becoming a landscape designer.
"I have plenty of plant knowledge," he says, "and a fair amount of electrical and engineering experience. Among specialties, I'm good at dealing with grades, pitch and stonework."
The company's project manager, Felipe Reyes, oversees three crews along with a steady stream of sub-contractors. Youngblood also continues to partner with artisans who specialize in metal, stonework and other crafts for spectacular project results.
European inspiration
One of the most successful partnerships between Youngblood and his clients is with George and Cynthia Fetsco in Oakland, Michigan, whose house won a 2010 Detroit Home Design Award.
"The Fetscos are world travelers who wanted their gardens to remind them of their travels," Youngblood says. Their 10,000-square-foot home is filled with antiques and artwork, and so the gardens on their 4-acre property pick up those cues with fountains and statuary as focal points (shown right)and strong sight lines provided by custom iron and bronze arbors and bluestone paths.
For dramatic effect, the Fetscos requested a floating copper fire bowl adjacent an infinity edge pool. They entertain frequently, hosting events with up to 75 people who are accommodated by inviting sitting areas and gathering spots.
Youngblood drew on European elements, as well, for another residence that included a $200,000 imported Belgian block granite paver driveway (featured pg. 22, TLC May issue) and lavishly designed boxwood hedge gardens, custom wrought iron gates, gas copper lanterns and a formal secret garden for a project totaling $500,000.
When presented with the design for the pool, the surprised owner said, "This is the missing link to our home."
He headed in a more free-flowing direction when landscaping a 600-acre horse farm for a Detroit music producer and his wife. "We wanted the main home, guesthouse and rolling pastures to all feel like one," Youngblood says. "While we have sight lines from the windows directed to statuary and plantings, the show is the horses and the owners' views of the pastures."
Working with clients
The key to Youngblood's success is his ability to create thoughtful, beautiful landscapes that take into account the lifestyle of his clients, their home's architecture and surrounding environment.
"The challenge is to generate excitement with potential clients," Youngblood says.
He and Schaus present storyboards that combine CAD drawings with hand-drawn and colored elevations, photos and product samples. "When I walk onto a site, I have the ability to see it for what it can be without encumbrances," Shaus says. "For the clients, this is much harder. The visuals are key. Storyboards give them snippets, like how we might open up a view of the lake or add a pool."
In fact, it was just such a speculative presentation that helped the company land its latest major project.
Pool package
Youngblood recently was called to the suburban Detroit home of a professional athlete where he learned a new guesthouse on the property needed landscaping and was asked to draft a concept.
Youngblood and Schaus developed hardscaping and planting ideas to connect the two structures. On the sly, the wife of the athlete asked them to mock up a pool design for the property.
"When we returned with plans for the guesthouse project, they were approved immediately," Shaus says. But then, the wife asked them to present the design for the pool to the surprised owner, who said, 'This is the missing link to our home.'
"We weren't 15 minutes away from the meeting," Shaus says, "when he called and OK'd the pool for what would be a $300,000 project."
Nearly all of Youngblood's new business comes from word of mouth.
"A lot of our work is sold at clients' garden parties," he says. "Our clientele, in one way or another, is networked together."
Three to six meetings with clients are usually needed before Youngblood has a solid feel for a project and secure approvals. "We're all about the details," he says, "and clients get it because they care about the details.
"They come home and want an incredible environment that changes season to season. You really have to be on top of your game to serve them. It's our passion for the details that sets us apart."