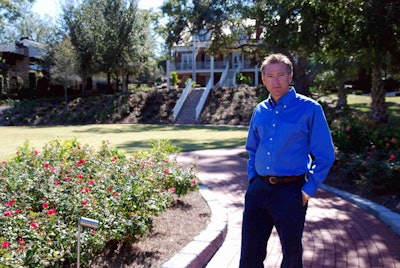 Rene West, owner of Executive Landscaping, knows the meaning of the words "under pressure."
Executive Landscaping is just one of the 12 finalists in the 2013 TLC Landscaper of the Year contest sponsored by Case Construction Equipment.
Located in Pensacola, Florida, the company has to work around more than just the average weed on a daily basis.
I got to witness the firm's work firsthand after a quick visit down to the sunny state to see a variety of projects West and his crew have worked on.
It was after learning that his team landscaped Maritime Park with an attaching amphitheater with more than 20,000 plants, sod and trees in a four-month time frame and having two days to finish a front-yard landscape for a wedding that I saw West has a true passion for landscaping.
Even more than that, West has learned to work in an environment that produces harsh sunlight, high winds, salt water and the occasional hurricane.
Through willing homeowners, West has been able to test a variety of plants in yards to see which ones will survive in a climate that seems to change every 10 miles.
"I'd rather turn a job down than to go in there and do something that I know is wrong," West said. "I've killed more plants in my life than most people can ever dream of. Just because a book says this plant will grow in your zone, doesn't mean it will live in our microclimate here."
West even implemented a residential-sized drip irrigation system back in the early 2000's that would water each plant, zone and turf individually.
West not only showed me a true skill of landscaping design and good business sense, but he also showed me that he loves what he does and has a passion to keep going.
The choice will be tough this year after visiting with each one of our highly-qualified finalists.
More of the company's work will be featured soon, but to learn more about the next Landscaper of the Year contest, click here. This year's winner will be announced mid-November.