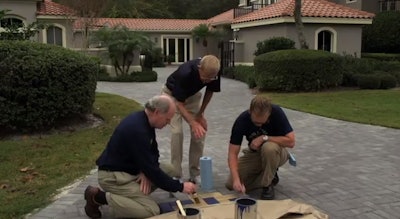 Belgard Hardscapes and Coach Lou Holtz are celebrating Notre Dame's contention for the national football championship with a Facebook contest that invites fans to guess how many Belgard pavers are in Coach's new driveway for a chance to win a Chicago Brick Oven.
The contest showcases Coach Holtz's new Belgard Hardscapes driveway, which in promotional materials is shown being painted in Notre Dame blue and gold for school spirit. Contestants are invited to guess how many pavers Coach Holtz will have to paint before the Jan. 7 championship game. Contestants should visit Belgard's Facebook page, where they can view a video that shows Coach's driveway and enter their guesses; contestants can visit each day for hints and to make a new guess.
The Holtz family upgraded their driveway, front courtyard and parking area using Belgard Hardscapes' Holland Stone this year, adding to the curb appeal of their Mediterranean-style home.
"Belgard Hardscapes is No. 1 in my book," said Coach Holtz, who led Notre Dame's football program from 1986-1996. The university erected a statue in his honor in 2006. Known as a motivator and disciplinarian with a keen eye for the game of football and a great sense of humor, Coach Holtz today is a regular commentator on ESPN and is affectionately known as "Coach."
The contest runs Dec. 20 through Jan. 7. The person with the closest guess to the actual number of Belgard pavers used on Coach Holtz's driveway will win the grand prize of a Chicago Brick Oven, courtesy of Belgard, and a Belgard Outdoor Cooking Starter Kit, so they can enjoy tailgating in their own outdoor space. The first runner-up prize is a Lou Holtz-autographed Notre Dame t-shirt with Belgard Outdoor Cooking Starter Kit, and second runner-up prize is a Belgard Outdoor Cooking Starter Kit. Contestants who forward the contest to a friend will be entered for a chance to win a Notre Dame Grill Set.